Industrial Categories
see the categories and sub-categories
Fever Diagnostic Thermography & Thermal Camera Scanning Systems
SARS, Ebola, H5N1, H1N1, Bird flue, Swine flue, New flue, Fever detection, Fever Scanning, The Thermal Scanning
These are words that everyone hears often these days.
Following the Influenza A(H1N1) epidemic in Mexico, many countries decided to carry out increased security checks at places with lots of people, or entry points, such as airports, ports, and borders.
Taking into consideration that the average body temperature of a healthy person is 36-37 °C and as a number of Ministries of Health and doctors in various countries mention two main indications for a possible flue infection: -
• Body temperature > 38°C AND
• Symptoms of an acute respiratory disease
they started to use contactless measurement procedures with thermal imagers and single point pyrometers for a first quick examination which can be followed with a more detailed and extensive examination if a person has suspicious symptoms.
Model 890 top of the range

With the thermal imager of Series 890, you are ideally equipped for to cover many thermography applications including fever detection.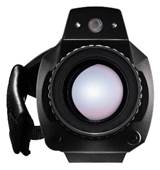 Series 890 professional thermal imaging camera offers in addition to what 885 offers  a resolution 640 x 480 pixels and with  SuperResolution technology enhanced to 1280 x 960 pixels, as well as thermal sensitivity of < 40 mK.
Fever measurement with the thermal imager 890
Why fever detection?
In times of increasing mobility, infections don't stop at na
tional borders either. Whether ebola, SARS or coronavirus: no-one wants to imagine the consequences of an epidemic or even a pandemic. That's why it's in the interest of public health to identify risk persons in large groups of people early. The operators of heavily frequented facilities such as airports, shopping malls or sports stadiums carry a special responsibility for disease prevention.
Why fever measurement with thermography?
An important indicator for an infection is increased body temperature (compared to other people in the immediate surroundings), generally known as fever. Thermography is the ideal method for scanning not just individuals, but also large flows of people. To do this, the temperature at the inner corner of the eye is measured, and an alarm triggered if it deviates. This allows persons with increased body temperature to be identified quickly and reliably, and to be isolated for more exact testing.
Model 400M
High Performance Thermal Camera
Ιntroducτion.
400M infrared thermal camera is designed for human body temperature detection.
With high IR resolution 400x300 and temperature measurement accuracy
(≤±0.4℃) ensures the high-precision rapid human body temperature detection
on a 5-inch 720P LCD display.Theergonomic rotating LCD and lens design
makes it convenient for human body temperature screening.
Based on an open Android operating system design, it works not only as a
thermal camera but also a portable body temperature rapid screening
system.
Features and Benefits
•Measurement Range 20℃~60℃, accuracy≤±0.4℃
•Rotating LCD display up 270°C for easy viewing angle
•Rotating lens detents up to 70°C for easy viewing angle
•Android based operation system with open platform for
various APP developments and convenient program updating
•Powerful onboard analysis and reporting capabilities
•Multiple image presentation including IR, visible, PIP and MIF
•Wi-Fi data transfer
Application: HealthCare
Specifications
IR resolution: 384×288
Detector type VOx/25μm/7.5~14μm
Frame rate: 25Hz/9Hz
NETD: 40mk
Focal length: 25mm/F1.0
Field of view(FOV): 21.7°×16.4°
Spatial resolution(IFOV): 0.99mrad
Min focus distance: 0.4m
Focus: Electric, Automatic Image Presentation
LCD Display: 5",1280×720 High Light Touch Screen
Viewfinder: 1280×960 LCOS Screen
Brightness contrast: Automatic, Manual, Fixed
Image mode: IR image, Visual image, PIP, MIF
Color palettes: 8
Digital zoom: 1.1~4x
Temperature Measurement Range: 20℃~60℃
Accuracy:≤±0.4℃ (target temperature 32℃~38℃)
Spot/Line/Area: 5 spots, 5 lines, 5 Areas
Analysis Info Storage: Saved with image (spot,line,areas)
Automatic Tracking: Either max. or min.
Isotherm: Upward, downward
Warning: Support image and voice warning
Image Format: Full Radiometric (JPG)
Image Internal Storage: Built-in 16G, SD card 16G (maximum support 32G)
Report Creation: PDF format, support print by connecting Wifi
Video Format: H.264(with temperature information)
Video Storage: Manual
Hardware : Visual camera of 5 million pixels, Illuminator, laser, Wi-Fi, Microphone (Volume adjustable),
Speaker (Volume adjustable), Digital compass, GPS, Light sensor
Interface Micro USB 2.0,SD card,Gigabit Ethernet,Tripod,Mini HDMI
Battery: Rechargeable Li-ion Battery(Certified to UN38.3), battery time>4 hours, support Sleeping mode
Working Temperature: 15°C~35°C
Storage Temperature: ﹣40°C~70°C
Protection rating: IP54
Weight: 1350g
Dimensions 206mm×145mm×135mm
Standard Accessories: Li-ion battery,Power supply adapter, Adapter plug (5 pcs), Shoulder strap, USB cable,
HDMI cable, Network cable, Quick Start Guide, User Manual, Data Download Card, SD card(16G),
Hard transport case
Optional Accessories: Tripod, wireless mouse & keyboard & Micro USB OTG cable, 24 inch monitor
(HDMI interface) & changeover plug., Li-ion battery, Pouch, Battery charger, Bluetooth earphone,
Extended lens, Lens bag
Series 120H - Fever Screening Economy Handheld Thermal Camera
Series 120H Fever Screening Thermal Camera is a fast temperature detection tool, which can be used to detect human temperature from a safety distance with accuracy of ±0.5℃. It is an economical and practical thermal camera that could meet the needs of primary temperature screening well.
Series 120H is not only suitable for flexible temperature screening, but can also be deployed at the entrances and exits of the public areas, making it an ideal device to improve the efficiency of epidemic  prevention and protect public health.
Features
o Fast temperature detection, automatic fever identification and alarm
o 1 meter safe detection distance, low risk of infection
o Support to save up to 100,000 images, can check temperature data
o TYPE-C interface, 2.5H fast charge, battery time up to 8H.
o Compact and portable, suitable for mobile detection,
can also be fixed on optional tripod
Specifications
IR resolution 120x90@17μm
Detector type Uncooled Vox/7.5~14μm
Frame Rate 25HZ
NETD 60mk

Focal Length/F# 2.28mm/F1.13
FOV 50°x38°
IFOV 7.6mrad
Focus : Fixed
Display type 2.4inch LCD display
Display Resolution 240*320
Image Mode IR Image
Filter Range 20℃-50℃
Accuracy ≤±0.5℃ (Ambient temperature 25 ℃, target distance
1m, target temperature 32 ℃ ~ 42 ℃, )
Measurement Point Central point
Alarm Over-temperature alarm, color prompt (preset value: 37.3℃)
Storage Media TF card (maximum support: 32G)
Image Format Full Radiometric (JPG) (120*90)
Communication USB TYPE-C, TF Card slot
Tripod Interface YES
Battery Type Rechargeable Li-ion battery
Operating Time >8H
Charging Time DC,≤2.5H
Operating
Temperature -10℃~50℃
Encapsulation IP54,2-meter Drop Test
Certification CE/ROHS/FCC
Weight 350g
Dimensions 194mm x 61.5mm x 76mm
Std Accessories Wristband,Quick start Guide,Charging adapter, Plug,
USB Type-C cable, Download card,16G TF Card
Series 200 - Fever Screening Handheld Thermal Camera
The 200 series thermal imaging camera accurately quantifies the actual recorded heat and detects images of the entire target object in real time in the form of a surface, so that you can accurately identify a suspicious high temperature.
also displayed as a normal digital photo
with the face temperature on it
MAIN FEATURES
• Handheld infrared thermal imager with lithium ion battery powered (4-6 hours autonomy)
• Continuous real time reading with "automatic detection" of the highest temperature spotted with a detection time of only 0,5 sec from 0,5 to 1,5 meters distance;
• 3.5" TFT - 640X480 resolution on board display;
• Battery life 4-6 hours;
• BODY MODE SET UP: precision ±0,5° - range 20-45 °C;
• Sound alarms when detecting dangerous temperature (manually set by the user);
• Image storage capacity 6 GB built-in flash memory, accessible via Micro USB;
• Lightweight rugged design, withstands daily handling and use;
• Tripod mount option for fixed installation;
• Specifically designed to monitor body temperature non-contact detection, so zero risks of cross infection, in a non- invasive way in schools, businesses, offices, during FESTIVALS, EXHIBITIONS, EVENTS as well as public places in general;
FOUR COLOURS IMAGING MODE
The 200 Series Thermal Imager provides 4 type of color palettes functions: SPECTRA, BLACKHOT, IRON, WHITEHOT for you to choose the appropriate palette to better show the details you need of the targeted surface/object.
TECHNICAL SPECIFICATIONS
Sigma 21 - measuring distance 0.5...5m with accuracy of ± 0.3℃
Specifications
Infrared resolution 210x260
Field of View 37°
Thermal sensitivity 0.07℃
Spatial resolution 1.7mrad
Infrared spectral ban: 8μm to 14μm
Measuring Distance: 0.5...5m
Temperature measurement range: 20°C...45°C
Color palette: Rainbow
Power supply: 12VDC, 2A, 5.5 DC Head
Video output: RJ45 interface
Alarm output: Alarm trigger (optional)
Temperature alarm function: Can set high and low temperature with sound alarm
Focusing: Fixed focal length / minimum focal length is 0.5m
Features
• It can be applied to small areas such as entrances, stores, etc.,
as well as large areas with dense traffic of persons.
• The detection time is less than 0.5 seconds
• Temperature accuracy ±0.3℃
• Supports abnormal temperature alarm function
• High-sensitivity infrared thermal imaging monitoring for 24 hours, and information visualization
• Accurately locating high temperature measurement spots with reduced false reporting rate
Sigma Series 380D-13V
Dual-Sensor Rapid Temperature Scanning Instrument of multiple targets
with ±0.2℃ Accuracy & Measuring Distance of 2~8 meters

Introduction and Technical Specification
Sigma 380 series rapid body temperature scanning system is an online infrared body temperature scanning and measuring system, which focuses on the body temperature. The system has a high accuracy of multiple targets simultaneous detection & rapid measurement, acoustic alarm, intelligent video analysis and non-contact body temperature measurement technology. Furthermore, it has advantages on large flow fast scanning, blackbody real-time calibration, AI artificial intelligence, 24 hours non-stop testing, with quick installation and is suitable for scenarios with large flow of people such as hospitals, schools, airports, railway stations, subway stations, expressway services, enterprises, office buildings and communities.
Sigma Series 380D-13V body temperature screening system can solve these problems with high sensitivity, high-quality images, compact structure,light weight,long-term testing, & software control.
Product Features

●Accuracy:±0.2℃
●Dual-sensor
●Acoustic alert function
●Record and capture functions
●Multiple points simultaneous detection
●Multiple IR video mode
●H264 online video transmission
●Accurate radical positioning
●Blackbody real-time calibration
Specifications
Infrared Channel

Type UFPA
Pixels 384x288
Wavelength Range 7.5~14μm
Field angle 28°× 21°
Sensitivity <50mK
Visible Light Channel
Type 1/2.8" CMOS
Pixel 1920x1080

Field Angle 53°× 30°
Audible & Visual Alarm:Build-in warning lights and speakers
Detection Performance
High temperature source detection rate >99%
False Accept Rate <5%
Multi-target Identification & Continuous Tracking Support
Automatic Alarm Support
Face recognition Support
Personnel Match with Badge Optional
Measuring Distance 2~8 meters
Measurement
Temperature Range +30℃~+45℃,
Temperature measuring range can be extended according to user requirements
Accuracy: ±0.2℃
Temperature Correction Automatic
Maximum Temperature Tracing: Real-time display of high temperature point location and temperature value
Emissivity Correction: The emissivity is adjustable from 0.01 to 1.0, or corrected by a predefined material emissivity meter
Background: Temperature Correction Automatic (based on input background temperature)
Atmospheric Transmittance Correction Automatic (based on input reflecting ambient temperature, distance, relative humidity, and ambient temperature)
Filter or Window Transmittance Automatic (based on input transmittance)
Function Setting: Date/time, temperature unit ℃/℉/K, and language
Data Storage
Temperature Data Custom MGT format. Analysis with IRX software
Image format: Adopted JPG for memory storage. BMP for PC. JPG
Video Format: AVI format , H.264 compression
SD Card Build-in 32G high speed TF card
Storage Control: Serial command with level trigger
Report Generation: Word format with content selection orientation
Port :
Internet Interface 100M/1000M LAN, RJ45 interface. Temperature data transmission
Video Output: SMA RFI
Control: RS232, RS485 (SDK level available)
Alarm I/O : Always closed. Always opened
API: Support SDK (Win&Linux), and ONVIF agreement (SDK level)
Power System : DC: 12V, Consumption <6w
Environmental Parameters
Operating Temperature -30℃~+60℃
Storage Temperature -40℃~+70℃
Humidity ≤95%(RH)
Vibration 2G(IEC60068-2-6)
Shock 25G (IEC60068-2-29)
EMC Match with CE/FCC
Physical Properties: Dimensions 236mm(L)×130mm(W)×80mm(H), Weight ≤850g
Installation Interface: Std tripod and M3 thread connection
Standard Configuration: Host, black body, integrated cable, and portable case
Sigma Series 300 and Series 600 with ±0.3℃ Accuracy & Measuring Distance of 1~5 meters with target temperature between 33°C~42°C
The Sigma Series 300 and Series 600 accurate temperature measurement
thermal cameras can be widely used in medical temperature measurement, body temperature screening, animal husbandry, machine vision, high-precision power detection, high-precision industrial detection and other industries. It can realize real-time temperature information transmission, accurate detection, fast screening and so on. In particular, its elevated body temperature screening function can be widely used in airports, railways, stations, terminals, schools, and other densely populated places, to achieve rapid screening and avoid congestion.
  Features
• Measurement accuracy ±0.3C

• Effective temperature measurement distance from 1m to 5m
• Frequency 50Hz, Gigabit network: support temperature data transmitting realtime
• Auto focus, fast and precise temperature measuring
• Spot/line/area/isotherm analysis tools, simpler and more flexible to retrieve temperature data
• Compact size: easily install in small space
• Support multi-protocols: TCP, UDP, ICMP, DHCP, RTSP
• Patented intelligent compensated temperature measurement algorithm: accuracy of ±0.3C
• Auto focus
• Professional analysis software
• SDK support
• Professional image quality
Specifications
Model
Sigma Series 300
Sigma Series 600
Detector type
VOx Uncooled Infrared FPA
Resolution
384 × 288
640 × 512
Focal Distance
7,8 mm
15 mm
Lens control
Supports auto focus
Focus Type
Athermal
FOV(Horizon×Vertical)
47 ° × 35,6 °
34,2 ° × 27,4 °
IFOV
0,93mrad
2.1mrad
Measuring Range
0 ° C ~ 50 ° C
Measurement accuracy @ambient temperature 16°C ~ 32°C (with blackbody)
±2°C @Target temperature 0°C~20°C
±0.6°C @Target temperature 20°C~33C°
±0.3°C @Target temperature 33°C~42°C
±0.6°C @Target temperature 42°C~50°C
Effective measurement distance
1m ~ 5m
Network Interface
RJ45
Network Protocol
TCP 、 UDP 、 ICMP 、 IGMP 、 DHCP 、 RTSP
Palettes
18
Supply voltage
10-36VDC
Typical consumption @25°C
≤3W
≤3.3W
SDK
supported
Standard set includes
Camera, adapter bracket, Network cable ×1, Power cable ×1, Blackb
ody (1 unit), Power adaptor, Tripod ×2, Extension shaft ×1
Needed by user:
Computer with i5 and above CPU, 8G and above memory, 64-bit win10 system, supports Gigabit network
Display: >1920 × 1080 resolution
Power adapter: 10 ~36VDC, 12VDC is recommended
Sigma Smart Wireless Thermal Fever Scanning Camera
WIFI-RECORD-ALARM-BATTERY
An intelligent camera that uses thermal imaging technology and
network processing system to perform high-speed temperature measurement, screening, recording and real-time surveillance video. It is a complete epidemic prevention solution integrating body temperature screening and pre-warning monitoring.
Built-in warning system, which can realize on-site alarm of body temperature abnormality. Built-in network transmission module, can realize remote monitoring, remote transmission of temperature measurement results, and push abnormal body temperature information. Built-in battery, it can work for 8 hours, and can be equipped with support frame for temporary control on site.
Temperature Screening Action
When the device detects someone into the monitored area, voice guidance is heard " Please go to the temperature measuring point for temperature measurement ".

2. When the body pass the temperature area, within 1 meter distance and 30 degrees of the camera, the device will measure the temperature and determine it in 0.5 seconds.
3. According to the temperature data, when temperature is normal, the device indicates that the body temperature is normal and instantly returns to normal temperature measuring state.
4. According to the temperature data, when the body temperature exceeds 37.3, the device will immediately enter into the alert mode, trigger the built-in alarm siren, voice reminding temperature abnormality, and push to the terminal synchronously.
5. Each temperature measurement process is completed in 0.5-second sensorless multipoint, the device synchronously displays the real-time terminal, and synchronously store
s the temperature superposition chart, temperature data and temperature measurement video.
6. The temperature data are calculated in real time and displayed synchronously according to daily statistics.
A Digital screen can be installed with TV software of Findcam, connect the smart camera via hot pot straightly or WIFI,cable and other local areanetwork (LAN), can also connect online via remote
Technical Specifications
Thermal Module
Thermal imagery Sensor 1024PIXS
Thermal LENS 5mm
Temperature Distance 0.2-1,0M
Temperature Accuracy ±0.3°C
Thermal pixel time constant <4ms
Temperature angle 32 degrees left and right, 32 degrees up and down
Hardware
Processor HI3516EV200
Image sensor 2 Megapixels, 1 920 * 1080 CMOS Sensor
Frame Rate 1~30fps
Min. Illumination Color: 1 .5 Lux; W/B: 0 Lux with IR LED ON
Lens/ Visual Angle 3.6mm/100°
Apply system Software version IOS7.1, Android 4.0 and above
Operating system Linux
Recording Mode Wholeday recording, timing recording and alarm recording
Video Storage Support Max 1 28G TF Card
Audio Compression G.71 1 A
Audio Input Built-in 38dB microphone
Audio Output Built-in speaker (8Ω 2W)
Protocols TCP/IP, HTTP, TCP, UDP, SMTP, DHCP, NTP.UPnP, P2P etc
Wireless WiFi 802.1 1 b/g/n wireless network
Network Interface 1 RJ45 1 0M / 100M Ethernet port
Detection High body temperature, >37.3
Battery 2pcs 3000ma 1 8650 battery
General specification
Operating temperature: 5° c ~ + 37 ° c
Maximum power <5w, 5V USBpower supply
Size 21 6mm*63mm*1 1 4m
Package size 254mm*1 50mm*1 40mm
Weight 735g
236 Series
Fever Thermal Imaging Warning Systems for Multi-person tracking in crowded public places such as airports, stations, factories, schools, and commercial centers
Fever Warning Systems are applied to mass fever screening in crowded public places, which help to detect people with a potential fever and may contain or limit the spread of the Coronavirus through identification of infected individuals showing fever symptoms. 236 Series combines advanced technology such as thermography human body temperature measurement algorithm and AI intelligent face recognition to make the equipment accurate and easy to use.
236 Series is equipped with various powerful functions. Multi-person tracking can ensure that no persons are missed. Custom warning zones and high-temperature shielding settings can avoid interference from other high-temperature objects. When detect the febrile people, it supports automatic warning, tracking and photo taking for storage which is convenient to query and classify management. 236 Series is the ideal equipment for epidemic prevention in public places such as airports, stations, factories, schools, and commercial centers.
Features
o Adopts 400x300 infrared uncooled Vox detector
o AI deep learning algorithm based on neural network, more accurate temperature measurement and lower false warning rate
o Accurate single-person and multi-person high temperature auto tracking and warning
o Equipped with black body, real-time temperature calibration, higher accuracy
o Face recognition detection function, more intelligent
o Stand-type, easy to move, standard PC with powerful analysis software
Specifications
IR resolution: 400×300
Pixel size: 17μm
NETD: ≤40mK
Focal Length: 9.7mm
FOV: 38°*28°
Frame Rate: 25Hz
Visible Camera Resolution 2 million pixels
Frame Rate: 25Hz
Temperature Measurement Range: -10℃~50℃
Accuracy: ≤ ± 0.3 ℃ (ambient temperature 16 ~ 32 ℃)
Calibration: Built-in shutter and external black body, automatic calibration after selecting mode
Parameter settings: Warning switch and warning threshold value, number of warning targets,
warning photos automatic clearing, shielding fixed high temperature objects
Face recognition:  Intelligent face recognition, Supported from V1.0.9.0
Real-time preview of visible and thermal image
Real-time temperature monitoring at any point in the field of view
Automatic tracking Support automatic tracking for elevated body temperatures
Automatic warning Tracking, warning and photo capturing for the fever people;
Warning while the Black Body is blocked.
Historical records Support query, classification and deletion of historical warning screenshots
Video recording Support. The software needs to be upgraded to V1.1.0.9, and equipped with NVR
(NVR standard 4T hard disk), support GB28181 protocol to access third-party platforms
Network communication protocol: HTTP、RTSP
Work Temperature: -10 ~ 50 ℃ (ambient temperature 16 ~ 32 ℃)
Storage Temperature: -20 ℃ ~ 60 ℃
Work Humidity: <90% (non-condensing)
Shock: 30g 11ms, IEC60068-2-27
Vibration: 10HZ ~ 150Hz ~ 10Hz 0.15mm, IEC60068-2-6
Blackbody target surface uniformity: ≤0.1 ℃
Temperature stability accuracy: ≤ ± 0.2 ℃ (single point)
Camera head Network interface:Two-way, visible light 100M, infrared 1000M
Camera head power Input voltage DC 12V
input power ≤12W
Camera head size: 173mm×184mm×212mm
Total height: (incl. stand) 2200mm
Camera head package 510mm× 440mm × 270mm (subject to actual delivery)
Total weight: ≤45kg (subject to actual delivery)
Certification: Medical Device Registration Certificate
Applications
o Large-scale temperature screening of airports, railway stations and more.
o Control and reduce the spread of virus with fever symptom, such as Ebola, SARS, and Zika, Novel Coronavirus…
Sigma G300 series
Infrared Body Temperature Measurement with accuracy of ±0.3℃/ Face recognition scanner /Gate attendance terminal
Sigma G300 a high-performance high-speed thermal detection camera with a built-in face recognition reader. The technology behind this device was developed in order to better prevent the spread of viruses and illnesses by rapidly identifying fever and potential cases. This unique temperature reading biometric device supports facial recognition even with a face mask on.
Specifications
Power adapter: 12 V 3 A power supply (DC head for DC 5.5 mm universal standard interface)
Dimensions: 190(L) x90(W) x 26(D) mm
Weight: 0.5kg
Ambient temperature: -20℃ to 50℃
Relative humidity: 10% to 85%
Storage capacity: 1000000 traffic records, 3000 faces, 3000 palm prints ,3000 passwords (Features that can only be customized by customers)
Speed of recognition: ≤0.5S
FRR : <0.01%
FAR: <0.001%
Communication mode: U-disk,TCP/IP(Features that can only be customized by customers)
Wegan signal: Wegan output, can be used as a read head
Keyboard: Touch screen
Functions:
1. Non-contact long-range temperature measurement (0.5 meters). Voice reminder for abnormal body temperature, reducing the risk of cross-contact;

2. Live detection, reject photos and videos, more accurate identification;
3. Large-capacity storage: 1,000,000 pass records, 3000 faces, 3000 passwords, 3000 cards (optional);
4. Users can independently set up the mask detection function, with voice reminder for the mask absence
5. Non-contact palm print recognition, even if fingers are dirty, frayed and peeled, can be easily identified;
6. U-disk time attendance, one-click import data, both access control and time attendance, automatically generate reports;
Sigma 160AI
Artificial Intelligence Face Recognition (with or without mask) and temperature measurement for fever detection
Specifications
Resolution: 160x120
Temperature Range: +30℃ ~ +45℃
Temperature Accuracy: ±0.3℃ (without black body); ±0.2℃ (with black body)
Measurement Distance: <3m
FOV: 50°x 39°/7mm
CCD Camera Resolution: 2MP
CCD Camera FOV: 60° 900M CPU*2
Internal Storage: 1GB
LCD: 1280x800, 12inch
Format: Video H.264 /H.265 MPJPEG, Codec
Audio MP3
Picture MPEG
WIFI (optional), RS485, LAN available
NEW: Fever Scanner converter for Smartphone - soon with you

The 360 Fever Scanner converter is a simple, efficient and affordable way to turn your smartphone into a thermal imaging camera & temperature detector instantly . The 360 can detect the human temperature from 1.2 meters away and automatically sound an alarm while identifying the elevated temperature, which helps deliver efficient and accurate temperature screening and make you safer at public areas.
Features
temperature screening from 1.2 meters away
plug and play, easy to use, scan and show the temperature instantly
Sound an alarm and capture an image while identifying the elevated temperature
Unique MIF (Multi-spectral Imaging Fusion) technology, enhancing the thermal image by the camera of smartphone
data can be reported and shared by social media
Specifications
IR Detector
IR Resolution: 120×90 @17μm WLP
Spectral Range:
Lens: Focal Length 2.3mm F1.1
Field of View (FOV): 50°±1°
Focus: Focus-free
Imaging Frame Rate: 25Hz
Functions
Temperature Measurement Accuracy
Temperature measuring from 0.5 ~ 1.2 meters;, accuracy≤ ± 0.5 ℃, target temperature range 28 ℃ ~ 40 ℃
Multi-spectral Imaging Fusion
Adopt unique MIF technology, add visible details to the thermal image by the camera of smartphone
Image Display/Capture: Saved as JPEG images
Interface: Communication Power Supply Interface: USB Type-C (Android); Lightning (IOS)
Input Voltage 5V,Powered by smartphone
Typical Power Consumption: ≤150mW
Environmental Adaptability: Operating Temperature: 0℃-40℃
Storage Temperature: -10℃-55℃
Sigma IR300 Non-Contact Infrared Medical Thermometer
Features:
Display resolution: 0.1 ℃
Accuracy: ±0.2 ℃
Measuring range: 32℃-42℃
Measure distance: 5-10cm
Operational ambient temperture: 10℃-40℃
Operational ambient humidity: 85%
Power: DC3V (2*AAA Battery)
Automatic turned-off: 8 seconds
Dimensions :6.3x3.54x1.57in(160x90x40mm)