Industrial Categories
see the categories and sub-categories
Fever Diagnostic Thermography & Thermal Camera Scanning Systems
SARS, Ebola, H5N1, H1N1, Bird flue, Swine flue, New flue, Fever detection, Fever Scanning, The Thermal Scanning
These are words that everyone hears often these days.
Following the Influenza A(H1N1) epidemic in Mexico, many countries decided to carry out increased security checks at places with lots of people, or entry points, such as airports, ports, and borders.
Taking into consideration that the average body temperature of a healthy person is 36-37 °C and as a number of Ministries of Health and doctors in various countries mention two main indications for a possible flue infection: -
• Body temperature > 38°C AND
• Symptoms of an acute respiratory disease
they started to use contactless measurement procedures with thermal imagers and single point pyrometers for a first quick examination which can be followed with a more detailed and extensive examination if a person has suspicious symptoms.
Model 885-2M
Model 885-2M is a thermal imager in the camcorder design. In addition to the fold-out, rotatable display, the camera also offers a rotatable handle. This allows having the ideal working position for every measurement, whether above the user's head or at floor level. Beside the well-proven operation with the joystick, it is possible to operate the thermal imager directly on the touchscreen with the newly developed hybrid operation.
885 has a detector with 320 x 240 pixels and offers a larger field of view as standard with a 30° lens. Furthermore the camera has an exchangeable telephoto lens available in order to be able to analyse far away objects in every detail. Regarding the thermal sensitivity, we have broken a sound barrier with 885: we have reached a NETD of < 30 mK!
The SuperResolution Technology will also be offered with 885: with this technology we obtain a four times higher resolution of 640 x 480 pixels in the stored image and an improvement of the geometric resolution by a factor of 1.6.
A further innovation is the panorama image assistant: The size of a measurement object can be just as much of a challenge in thermography. When it is not possible to record the measurement object with a single image, the new panorama assistant makes a total view out of several individual images. This means you can conveniently analyze an overview of even very large targets without losing the attention to detail.
Furthermore we offer our users the new SiteRecognition technology: Many similar measurement objects mean many similar thermal images. Previously, in order to be able to allocate the measurements clearly to the different measurement sites, users needed to keep complex lists, or add a voice comment to each individual thermal image. A patent-pending innovation now solves these problems: with SiteRecognition technology, measurement sites are automatically recognized and the resulting thermal images correctly archived. This allows periodical field tours to be conducted efficiently.
885-2M Tecnical Features
320 x 240 pixel detection with high-quality optics
SuperResolution technology improves image quality four-fold to 640 x 480 pixels
Thermal sensitivity < 30 mK NETD to detect even the smallest thermal differences
Panorama image assistant allows for the analysis of a total image stitched together from multiple individual images
SiteRecognition technology offers direct recognition of measurement sites
Video output: USB 2.0
Voice recording Bluetooth headset
SD memory card
Flexibility thanks to its rotating handle and rotating, fold-out display
Model 890 top of the range

With the thermal imager of Series 890, you are ideally equipped for to cover many thermography applications including fever detection.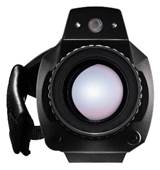 Series 890 professional thermal imaging camera offers in addition to what 885 offers  a resolution 640 x 480 pixels and with  SuperResolution technology enhanced to 1280 x 960 pixels, as well as thermal sensitivity of < 40 mK.
Fever measurement with the thermal imager 890
Why fever detection?
In times of increasing mobility, infections don't stop at na
tional borders either. Whether ebola, SARS or coronavirus: no-one wants to imagine the consequences of an epidemic or even a pandemic. That's why it's in the interest of public health to identify risk persons in large groups of people early. The operators of heavily frequented facilities such as airports, shopping malls or sports stadiums carry a special responsibility for disease prevention.
Why fever measurement with thermography?
An important indicator for an infection is increased body temperature (compared to other people in the immediate surroundings), generally known as fever. Thermography is the ideal method for scanning not just individuals, but also large flows of people. To do this, the temperature at the inner corner of the eye is measured, and an alarm triggered if it deviates. This allows persons with increased body temperature to be identified quickly and reliably, and to be isolated for more exact testing.
Model 400M
High Performance Thermal Camera
Ιntroducτion.
400M infrared thermal camera is designed for human body temperature detection.
With high IR resolution 400x300 and temperature measurement accuracy
(≤±0.4℃) ensures the high-precision rapid human body temperature detection
on a 5-inch 720P LCD display.Theergonomic rotating LCD and lens design
makes it convenient for human body temperature screening.
Based on an open Android operating system design, it works not only as a
thermal camera but also a portable body temperature rapid screening
system.
Features and Benefits
•Measurement Range 20℃~60℃, accuracy≤±0.4℃
•Rotating LCD display up 270°C for easy viewing angle
•Rotating lens detents up to 70°C for easy viewing angle
•Android based operation system with open platform for
various APP developments and convenient program updating
•Powerful onboard analysis and reporting capabilities
•Multiple image presentation including IR, visible, PIP and MIF
•Wi-Fi data transfer
Application: HealthCare
Specifications
IR resolution: 384×288
Detector type VOx/25μm/7.5~14μm
Frame rate: 25Hz/9Hz
NETD: 40mk
Focal length: 25mm/F1.0
Field of view(FOV): 21.7°×16.4°
Spatial resolution(IFOV): 0.99mrad
Min focus distance: 0.4m
Focus: Electric, Automatic Image Presentation
LCD Display: 5",1280×720 High Light Touch Screen
Viewfinder: 1280×960 LCOS Screen
Brightness contrast: Automatic, Manual, Fixed
Image mode: IR image, Visual image, PIP, MIF
Color palettes: 8
Digital zoom: 1.1~4x
Temperature Measurement Range: 20℃~60℃
Accuracy:≤±0.4℃ (target temperature 32℃~38℃)
Spot/Line/Area: 5 spots, 5 lines, 5 Areas
Analysis Info Storage: Saved with image (spot,line,areas)
Automatic Tracking: Either max. or min.
Isotherm: Upward, downward
Warning: Support image and voice warning
Image Format: Full Radiometric (JPG)
Image Internal Storage: Built-in 16G, SD card 16G (maximum support 32G)
Report Creation: PDF format, support print by connecting Wifi
Video Format: H.264(with temperature information)
Video Storage: Manual
Hardware : Visual camera of 5 million pixels, Illuminator, laser, Wi-Fi, Microphone (Volume adjustable),
Speaker (Volume adjustable), Digital compass, GPS, Light sensor
Interface Micro USB 2.0,SD card,Gigabit Ethernet,Tripod,Mini HDMI
Battery: Rechargeable Li-ion Battery(Certified to UN38.3), battery time>4 hours, support Sleeping mode
Working Temperature: 15°C~35°C
Storage Temperature: ﹣40°C~70°C
Protection rating: IP54
Weight: 1350g
Dimensions 206mm×145mm×135mm
Standard Accessories: Li-ion battery,Power supply adapter, Adapter plug (5 pcs), Shoulder strap, USB cable,
HDMI cable, Network cable, Quick Start Guide, User Manual, Data Download Card, SD card(16G),
Hard transport case
Optional Accessories: Tripod, wireless mouse & keyboard & Micro USB OTG cable, 24 inch monitor
(HDMI interface) & changeover plug., Li-ion battery, Pouch, Battery charger, Bluetooth earphone,
Extended lens, Lens bag
Series 120H - Fever Screening Economy Handheld Thermal Camera
Series 120H Fever Screening Thermal Camera is a fast temperature detection tool, which can be used to detect human temperature from a safety distance with accuracy of ±0.5℃. It is an economical and practical thermal camera that could meet the needs of primary temperature screening well.
Series 120H is not only suitable for flexible temperature screening, but can also be deployed at the entrances and exits of the public areas, making it an ideal device to improve the efficiency of epidemic  prevention and protect public health.
Features
o Fast temperature detection, automatic fever identification and alarm
o 1 meter safe detection distance, low risk of infection
o Support to save up to 100,000 images, can check temperature data
o TYPE-C interface, 2.5H fast charge, battery time up to 8H.
o Compact and portable, suitable for mobile detection,
can also be fixed on optional tripod
Specifications

IR resolution 120x90@17μm
Detector type Uncooled Vox/7.5~14μm
Frame Rate 25HZ
NETD 60mk
Focal Length/F# 2.28mm/F1.13
FOV 50°x38°
IFOV 7.6mrad
Focus : Fixed
Display type 2.4inch LCD display
Display Resolution 240*320
Image Mode IR Image
Filter Range 20℃-50℃
Accuracy ≤±0.5℃ (Ambient temperature 25 ℃, target distance
1m, target temperature 32 ℃ ~ 42 ℃, )
Measurement Point Central point
Alarm Over-temperature alarm, color prompt (preset value: 37.3℃)

Storage Media TF card (maximum support: 32G)
Image Format Full Radiometric (JPG) (120*90)
Communication USB TYPE-C, TF Card slot
Tripod Interface YES
Battery Type Rechargeable Li-ion battery
Operating Time >8H
Charging Time DC,≤2.5H
Operating
Temperature -10℃~50℃
Encapsulation IP54,2-meter Drop Test
Certification CE/ROHS/FCC
Weight 350g
Dimensions 194mm x 61.5mm x 76mm
Std Accessories Wristband,Quick start Guide,Charging adapter, Plug,
USB Type-C cable, Download card,16G TF Card
236 Series
Fever Thermal Imaging Warning Systems
Fever Warning Systems are applied to mass fever screening in crowded public places, which help to detect people with a potential fever and may contain or limit the spread of the Coronavirus through identification of infected individuals showing fever symptoms. 236 Series combines advanced technology such as thermography human body temperature measurement algorithm and AI intelligent face recognition to make the equipment accurate and easy to use.
236 Series is equipped with various powerful functions. Multi-person tracking can ensure that no persons are missed. Custom warning zones and high-temperature shielding settings can avoid interference from other high-temperature objects. When detect the febrile people, it supports automatic warning, tracking and photo taking for storage which is convenient to query and classify management. 236 Series is the ideal equipment for epidemic prevention in public places such as airports, stations, factories, schools, and commercial centers.
Features
o Adopts 400x300 infrared uncooled Vox detector
o AI deep learning algorithm based on neural network, more accurate temperature measurement and lower false warning rate
o Accurate single-person and multi-person high temperature auto tracking and warning
o Equipped with black body, real-time temperature calibration, higher accuracy
o Face recognition detection function, more intelligent
o Stand-type, easy to move, standard PC with powerful analysis software
Specifications
IR resolution: 400×300
Pixel size: 17μm
NETD: ≤40mK
Focal Length: 9.7mm
FOV: 38°*28°
Frame Rate: 25Hz
Visible Camera Resolution 2 million pixels
Frame Rate: 25Hz
Temperature Measurement Range: -10℃~50℃
Accuracy: ≤ ± 0.3 ℃ (ambient temperature 16 ~ 32 ℃)
Calibration: Built-in shutter and external black body, automatic calibration after selecting mode
Parameter settings: Warning switch and warning threshold value, number of warning targets,
warning photos automatic clearing, shielding fixed high temperature objects
Face recognition:  Intelligent face recognition, Supported from V1.0.9.0
Real-time preview of visible and thermal image
Real-time temperature monitoring at any point in the field of view
Automatic tracking Support automatic tracking for elevated body temperatures
Automatic warning Tracking, warning and photo capturing for the fever people;
Warning while the Black Body is blocked.
Historical records Support query, classification and deletion of historical warning screenshots
Video recording Support. The software needs to be upgraded to V1.1.0.9, and equipped with NVR
(NVR standard 4T hard disk), support GB28181 protocol to access third-party platforms
Network communication protocol: HTTP、RTSP
Work Temperature: -10 ~ 50 ℃ (ambient temperature 16 ~ 32 ℃)
Storage Temperature: -20 ℃ ~ 60 ℃
Work Humidity: <90% (non-condensing)
Shock: 30g 11ms, IEC60068-2-27
Vibration: 10HZ ~ 150Hz ~ 10Hz 0.15mm, IEC60068-2-6
Blackbody target surface uniformity: ≤0.1 ℃
Temperature stability accuracy: ≤ ± 0.2 ℃ (single point)
Camera head Network interface:Two-way, visible light 100M, infrared 1000M
Camera head power Input voltage DC 12V
input power ≤12W
Camera head size: 173mm×184mm×212mm
Total height: (incl. stand) 2200mm
Camera head package 510mm× 440mm × 270mm (subject to actual delivery)
Total weight: ≤45kg (subject to actual delivery)
Certification: Medical Device Registration Certificate
Applications
o Large-scale temperature screening of airports, railway stations and more.
o Control and reduce the spread of virus with fever symptom, such as Ebola, SARS, and Zika, Novel Coronavirus…