Industrial Categories
see the categories and sub-categories
Toxic gases
A toxic gas may be defined as a chemical compound that, when inhaled, ingested or absorbed through the skin provokes a wide range of damage, from minor irritations to death. It is possible to come in contact with these gases in different situations and, it is the employer's liability to insure that no workers are exposed to concentrations exceeding the safe limits.
Exposure to toxic gases must be calculated on the Time WeightedAverage (TWA) basis, which is the medium concentration relevant to a common 8 hours working day, at which it is considered that all employee can be exposed without injuring their health.
Exposure limits to toxic gases have been established by occupational safety agencies and may vary according to local directives. They commonly refer to the short term exposure limit (STEL) defined by the American Conference of Governmental Industrial Hygienists (ACGIH). The lower is the STEL –either expressed in ppmor mg/m3 –the higher is the compound toxicity.
In the United Kingdom the normative reference is known as COSHH (Control of Substances Hazardous to Health) and its limits are published by HSE (Healthand Safety Executive) in the guide EH40. MEL(Maximum Exposure Levels) concerns the most dangerous compounds; an exposure to them should be the shortest possible and in any case no longer than these levels.OES(Occupational Exposure Standards) concerns less dangerous substances and the exposure can be considered sure if under these two limits:LTEL(Long Term Exposure Limit) exposure during 8 hours daily workSTEL(Short Term Exposure Limit) applicable to occasional exposures (15 minutes).
MAK (Maximale Arbeitsplatz Konzentration) is the system reference used in Germany and in some nearby countries. Its values are published by DFG and are based on experimental effects of toxic substances observed on people and animals. MAK value isdefined as the maximum tolerable concentration of a gas or of a toxic vaporin a working place, without impairing personnel health. Exposure for 8 hours a day for 5 days a week (40 hours) can be repeated for a long time without bad effects on people's health.
In the USA Occupational Organizations are OSHA and NIOSH. As for most of the Countries, in the USA exposure limits are defined as TLV(Threshold Limit Value), STEL(Short Term Exposure Limit) and TWA (Time Weighted Average).
TLV: (threshold limit values), limit below which toxic substances in working places generally do not provoke negative health effects.
TLV -TWA: (time weighted average, MAK medium), allowable medium concentration time weighted on a 8 hour workday and 40 hour workweek at which it isconsidered that personnel may be exposed.
TLV -STEL: (Short Term Exposure Limit), maximum concentration for a continuous exposure for up to 15 minutes, on condition that the TLV is not exceeded.
TLV -C: (Ceiling), concentration ceiling, borderline concentration, value that cannot be exceeded not even for a second.
Toxic gas concentration in the air is expressed in parts per million (ppm), which is the gas concentration measure in volume. The alternative unit in Europe is milligram per cubic meter in the air (mg/m3), which is a mass measure. An approximate and suitable conversion from ppm to mg/m3 and vice versa, can be obtained by knowing the gas molecular weight at 25°C and at 1 bar atmospheric pressure. The relevant formula is:TLV (mg/m3) = TLV (ppm) * molecular weight (g) / 24.45
The detection of hazardous gases has always been a complex subject, making the selection of the appropriate sensor, instrument, or equipment a difficult task. Sigma offers electrochemical, catalytic, & non-dispersive infrared(NDIR) sensors for toxic and flammable gases.
Sigma offers a variety of options to cover most of your applications, some of which are listed hereunder
Sigma 95H series
Sigma 95H series wall mounted type of gas detector with alarm light, is monitoring gas concentration in different applications 24h continuously. Using high quality sensors, and advanced micro-process technology, with data display, high/low alarm, offers fast response, high precision and good stability.
Powered by 24V DC, with 4-20mA, RS485, relay signal output and Explosion proof, is suitable for different kinds of applications.
Features

Monitor the specific gas concentration in the environment and activates the alarm when it is over the set point.
With self-calibration and zero calibration function, it makes the detection more accurate and reliable.
With temperature compensation, it is able to function under conditions of different temperatures.
A two-stage alarm (High/Low) with sound and light, is user adjustable.
An Infrared controller can adjust remotely the alarm point settings, zero calibration, and address modification.
Can output one or two on-off signals, can drive ventilator or
solenoid valve and other external devices.
Working Voltage:12-36V DC
Housing:die-cast aluminum + stainless steel (alarm light)
Product advantages
Using high quality sensors.
Standard equipped with three-wire system 4-20mA analog output; relay output; RS485 output (optional)
Unique infrared non contact control
Compatible with all kinds of control alarms, PLC, DCS and
other control systems, can be remote monitored.
Explosion-proof design, fast, reliable and stable.
Explosion-proof grade: II 2G Ex db IIC T6 Gb IP65
With self-calibration function and three standard keys will be used for on-site maintenance.
Technical Specifications
Gas Detected: As ordered from a variety of different gases
Detection Principle: Catalytic
Measuring Range: depending on the application
Installation Method: Wall-mounted, piping type, flow-type(according to the detection application)
Output signal 4-20mA, RS485,  relays (optional)
Precision ≤±3%F.S. (higher precision is optional)
Zero shift ≤±1%(F.S./year)
Display 4 digits Nixie tube display.
Connection mode G1/2 external thread explosion-proof flexible pipe
Thread Size M45*2mm
Temperature –20℃~50℃
Humidity 0-95%RH (non-condensing)
Explosion-Proof Ex dⅡCT6
Degree of protection IP65
Alarm mode Audible, Visual
Material Case: Die-cast aluminum
Sensor housing: aluminum alloy or 316 stainless steel
Power 12-36V DC
Dimensions 180×150×90mm
Weight ≤1.6kg
Sigma 95H-B Multiple Gas Monitor
with digital display, integrated sampling pump and alarm for continuous monitoring of toxic & combustible gases
Sigma 95H-B multiple gas monitor can detect up to 6 gases at the same time in complex and multi-gas environments, reducing multiple installation costs.
The integrated sampling suction pump provides a faster and more sensitive response than difuse type detectors.
Sigma 95H-B is using a patented advanced circuit design, and mature kernel algorithm processing, a 2.4-inch high-definition color screen to display the on-site concentration in real time, and outputs 4-20mA, RS485 Standard signal, for data transmition remotely
Sigma 95H-B has a 2.4-inch industrial-grade high-definition color screen with a resolution of 320*240 and a wide viewing angle of 120 degrees.
Supports ppm, mg/m3, μmol/mol display units. Units can be switched, and the concentration value will automatically be converted by the device.
Sigma 95H-B provides full software automatic verification function and zero calibration function, making gas monitoring more accurate and more reliable.
Accuracy: ≤± 2% FS
Response time: ≤10S
Standard infrared remote control, which can remotely control the detector and modify the detector settings.
Audible and visual alarm function.
Signal output: RS485, 1 x 4-20mA, 1 relay output (2 optional)
Protection rating: IP65
Temperature / humidity: -20 to 50°C / 0-95%RH
Ex d IIC T6 Gb
Gases,
CO, H2S, O2, N2, NH3, CL2, H2, CH2O, O3, CO2, NO, NO2, SO2, ETO, PH3, HCL, HCN, COCL2, CLO2, SiH4, F2, HF, HBr, H2O2, B2H6, AsH3, GeH4, N2H4, THT, Br2, C2H2, C2H4, CH3OH, C2H5OH, CH4S, C8H8, C4H6, VOC/TVOC, CH3Br, C6H6, C7H8, C8H10. Other gases on request.
Applications
Petrochemical & Chemical Industry
Marine
Food & Pharmaceutical Industry
Electronics
Municipal Engineering & Utilities
Agricultural & Environmental Protection
Other Industries
GD10A Series of Explosion Protected Gas Detectors
Versions available for the detection of:-
Hydrocarbon Gases - using temperature-compensated infrared sensors.
Carbon Dioxide - using temperature-compensated infrared sensors.
Oxygen or Toxic Gases – using electrochemical sensors.
Flammable gases - using 'Pellistor' technology
Features
Competitively priced
Non-intrusive calibration and configuration via a magnetic pen
Compact and lightweight
Optional weather guard
Plug-in replaceable gas sensors
Relay outputs for 2 alarm levels and fault
Wide power supply range of 8 to 24 volts dc
4 to 20 mA and RS232 outputs
Non-display version available – GD10B (see separate data sheet)

Description
The GD10A is an explosion protected ATEX and IECEx certified fixed gas detector for use in potentially explosive atmospheres.
It comprises an instrument housing with two cable gland entries and contains the connection terminals, electronics and a gas sensor, which is screwed into the bottom of the unit, and display window. The unit may be optionally fitted with a protective weather guard as shown in the photograph opposite.
Magnetically operated switches allow the unit to be calibrated through the display window using the magnetic pen without the need to remove the cover from the unit.
Three control relays are fitted to provide Alarm Level 1, Alarm Level 2 and Fault outputs via individual changeover contacts. In addition to the 4 to 20 mA analogue, an RS 232 communications output is also provided.
Specify your range requirement when ordering.
Specifications
Materials : Instrument Body – Aluminium Pressure Die Casting
Sensor Insert – Stainless Steel Grade 316
Magnetic Pen – Stainless Steel Grade 316
Optional Weather guard – Stainless Steel Grade 304 & Nylon 66
Cable entries : 2 x 20mm or ½" NPT or ¾" NPT
Weights : GD10A (excluding weather guard) – 1.75Kg
Magnetic Pen – 60 grams
Weather guard – 225 grams
Gas types : Flammable, Oxygen or Toxic
Input voltage : 8 to 24 volts dc
Input power : 5 Watts maximum
Internal fuse : 1 Amp anti surge 'Nanofuse'
Relay contact rating : 3 Amps, 300 Volts ac
Analogue output : 4 to 20mA (10 bit resolution)
RS232 output : Communications with PC at 19200 baud
Sensor types : NDIR Infrared, Electrochemical or Pellistor
Measurement range : Dependent upon sensor type
Response time : Flammable Gases - typically T90 < 15 sec (CH4)
Toxic and Oxygen sensor response times vary according to the sensor type.
Measurement resolution: Flammable gases - 1% LEL or 1% volume.
Toxic gases - 0.1ppm for FSD < 50ppm, 1ppm for FSD> 50ppm.
Oxygen - 0.1% volume.
IP rating : Enclosure IP68, Sensor IP65
Display : 4 Digit, 7 segment liquid crystal
Keypad : 4-Button magnetically operated
Software : Software configuration provided via LCD display and multifunction keypad
Operating temperature : - 20 to +60 O C
Humidity range : 0 to 95% RH non-condensing
Operating pressure : Atmospheric + or - 10%
Performance standards : EN 61779-1:2000, EN 61779-4:2000, EN 61779-5:2000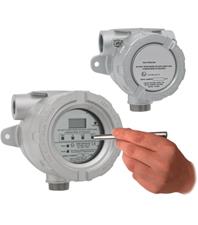 Hazardous Area Certification
Certificate numbers : IECEx SIR 08.0009X, Code Ex d IIC
SIRA 08ATEX1031X, Code Ex d IIC
Standards : IEC 60079-0 : 2004 (Edition 4) IEC 60079-1 : 2007-04 (Edition 6), EN 60079-0 : 2006 EN60079-1 : 2007
Temperature Codes : T4 (Ta -20 to +60 deg C)
T5 (Ta -20 to +50 deg C)
T6 (Ta -20 to +35 deg C)
Zones : 1 & 2
GD10B Series of Explosion Protected Gas Detectors
Description
The GD10B is an explosion protected ATEX and IECEx certified fixed gas detector for use in potentially
explosive atmospheres.
It comprises an instrument housing with two cable gland entries. The housing contains the connection terminals, electronics and gas sensor which is screwed into the bottom of the housing. The unit may be optionally fitted with a protective weather guard as shown in the photograph opposite.
Versions available for the detection of:-
Hydrocarbon Gases - using temperature-compensated infrared sensors.
Carbon Dioxide - using temperature-compensated infrared sensors.
Oxygen or Toxic Gases – using electrochemical sensors.
Flammable gases - using 'Pellistor' technology.
Calibration of the GD10B can be carried out simply by using ZERO and SPAN buttons inside the instrument provided that the concentration of the calibration gas is the same as that used for factory calibration of the detector (refer to the instrument calibration certificate for details).
Alternatively, the purpose designed plug-in hand held configuration unit shown above may be used together with any appropriate test gas concentration.
Calibration of the unit requires the removal of the front cover of the flameproof enclosure and therefore must only be carried out under either of the following conditions:-

1. In a safe area where there is no risk of the presence of an explosive gas.
2. Within the hazardous area by authorised personnel under controlled conditions after it has been established that no flammable gases are present in the area. Note that a management or health and safety department permit may be required for this to be carried out.
Specify your range requirements when ordering.
Specifications
Materials : Instrument Body – Aluminium Pressure Die Casting or Stainless Steel 316
Sensor Insert – Stainless Steel Grade 316
Optional Weather guard – Stainless Steel Grade 304 & Nylon 66
Cable entries : 2 x 20mm or ½" NPT or ¾" NPT
Weights : GD10B (excluding weatherguard) – 1 Kg
Weather guard – 225 grams
Gas types : Flammable, Oxygen or Toxic,
Input voltage : 8 to 24 volts dc
Input power : 5 Watts maximum
Internal fuse : 1 Amp anti surge 'Nanofuse'
Analogue output : 4 to 20mA (10 bit resolution)
Sensor types : NDIR Infrared, Electrochemical or Pellistor
Measurement range : Dependent upon sensor type
Response time :
Flammable Gases - typically T90 < 15 sec (CH4)
Toxic and Oxygen sensor response times vary according to the sensor type.
Measurement resolution:
Flammable gases - 1% LEL or 1% volume.
Toxic gases - 0.1ppm for FSD < 50ppm, 1ppm for FSD> 50ppm.
Oxygen - 0.1% volume.
IP rating : Enclosure IP68, Sensor IP65
Operating temperature : - 20 to +60 O C
Humidity range : 0 to 95% RH non-condensing
Operating pressure : Atmospheric + or - 10%
Performance standards : EN 61779-1:2000, EN 61779-4:2000, EN 61779-5:2000
Hazardous Area Certification
Certificate numbers : IECEx SIR 08.0009X, Code Ex d IIC
SIRA 08ATEX1031X, Code Ex d IIC
Standards : IEC 60079-0 : 2004 (Edition 4) IEC 60079-1 : 2007-04 (Edition 6)
EN 60079-0 : 2006 EN60079-1 : 2007
Temperature Codes :
T4 (Ta -20 to +60 deg C)
T5 (Ta -20 to +50 deg C)
T6 (Ta -20 to +35 deg C)
Zones : 1 & 2