Industrial Categories
see the categories and sub-categories
Temperature non-contact
In many production and processing facilities, operations take place at high temperatures. Proper automation and quality control require safe detection and monitoring of temperatures without contact.
Infrared heat sensors absorb the heat radiation of objects and convert it into a switching signal. The advantage of having no mechanical contact between the object and the sensor makes infrared sensors ideal for temperature monitoring applications, such as moving objects in spaces with difficult access, conductive or sticky objects/materials, surface treated objects, or on aggressive media where short response times are required, dangerous applications for direct contact.
Sigma Hellas provides high quality, cost effective, non-contact temperature measurement solutions for inaccessible  or moving  objects  and  materials in industrial, benchtop, laboratory and educational applications
PC series simple infrared temperature sensor with analogue output
Features
Temperature range:      -20°C to 100°C (LT models)
0°C to 250°C (MT models)
0°C to 500°C (HT models)
Fixed emissivity setting: 0.95
Output (Measured Temperature)
0-50 mV (-1 models)
Type T Thermocouple (-2 models)
Type J Thermocouple (-3 models)
Type K Thermocouple (-4 models)
0-50 mV, low current consumption (-5 models)
Fast response with high stability
Stainless steel 316 housing
Protection rating:  IP65
Optics: Choice of optics for small or large targets at short or long distances
Ideal for measuring non-reflective non-metals, or painted metal surfaces
Accuracy: ±1% of reading or ±1ºC, whichever is greater
MiniUSB - USB Infrared Temperature Sensor for Benchtop, Laboratory and Education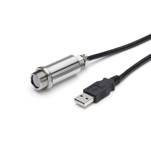 Sensor Features
Miniature non-contact temperature sensor with USB communications
Measures temperatures from -20°C to 1000°C
USB cable and software included for data logging and configuration
Modbus protocol - use your own software to communicate with the sensor
Software Features: Config
Temperature display, graph, configuration and data logging
Connect multiple sensors to the same software
Simple, touch-friendly interface
Software included with every sensor
General Specifications
Temperature Range: -20°C to 1000°C
Interface: USB
Accuracy: ±1% of reading or ±1ºC whichever is greater
Repeatability: ± 0.5% of reading or ± 0.5°C whichever is greater
Emissivity: 0.2 to 1.0
Response Time:  t90 125 ms (90% response)
Spectral Range: 8 to 14 μm
Supply Voltage: 5 V DC
Supply Current: 50 mA max.
Baud Rate: 9600 baud (other configurations available upon request)
Modbus Data Format: 8 data bits, no parity, 1 stop bit (other configurations available upon request)
Protocol: Modbus over Serial Line
PyroMini : Fixed Infrared Temperature Sensor with Remote Sensing Head
Features
Temperature ranges from -20°C to 1000°C
4-20 mA or RS485 Modbus outputs
Miniature sensing head and configurable electronics module
Touch screen interface (optional)
High ambient temperature sensing head option for use in 180°C ambient temperature without cooling
Data logging to MicroSD Card (optional)
General Specifications
Temperature Range: -20°C to 1000°C, varies by model (see "Ordering")
Output: 4-20 mA or RS485 Modbus (Up to 247 sensors may be installed on a single Modbus network)
Field of View: Choice of wide-angle or focussed optics (see Field of View Diagrams below)
Accuracy: ± 1°C or 1%, whichever is greater
Repeatability: ± 0.5°C or 0.5%, whichever is greater
Emissivity Setting: Adjustable, 0.20 to 1.00
Emissivity Setting Method: -CB models: via two rotary switches in electronics module
-BB and -BRT models: via RS485 Modbus
-CRT and -BRT models: via touch screen
Response Time:  t90 240 ms (90% response)
Spectral Range: 8 to 14 μm
Supply Voltage: 24 V DC ± 5%
Maximum Current Draw: 100 mA
Max. Loop Impedance (-CB and -CRT models):
900 Ω (4-20 mA output)
Alarm Relays (-CRT and -BRT models):
2 x Single Pole Changeover alarm relays, rated 24 V DC, 1 A, isolated 500 V DC
Data Logging Specifications
Data Logging Interval: 1 to 86,400 seconds (1 day)
MicroSD Card Max. capacity: 2 GB (not included)
Internal Clock Battery: 1 x BR 1225 3V (not included)
Variables Logged: Target temperature, sensing head temperature, electronics module temperature, max, min, average, emissivity setting, reflected energy compensation Temperature, alarm events
File format: .csv
Configurable Parameters: Sample period, number of samples, scheduled start date and time
Touch Screen Interface Specifications
Touch Screen Display Format: 2.83" (72 mm) resistive touch TFT, 320 x 240 pixels, backlit
Configurable Parameters
Temperature range, temperature units, emissivity setting, reflected energy compensation, alarms, signal processing, Modbus address (-BRT models), date and time, data logging
Temperature Units: °C or °F configurable
Temperature Resolution: 0.1°
Alarm Configuration: Two alarms with adjustable level, individually configurable as HI or LO. Alarm 2 can be set to target temperature or sensing head internal temperature
Signal Processing: Average, peak hold, valley hold, minimum, maximum
PyroMini 2.2 Two-part Pyrometer for High Temperature Targets and Metals
Features
Temperature ranges:
PT models: 100°C to 400°C
MT models: 250°C to 1000°C
HT models: 450°C to 2000°C
Short wavelength measurement for better accuracy on reflective targets such as many metals
Output: 4-20 mA or RS485 Modbus (Up to 247 sensors may be installed on a single Modbus network)
Field of View: Choice of wide-angle or focussed optics (see Field of View Diagrams below)
Accuracy: ± 2°C or 1% of reading, whichever is greater
Repeatability: ± 0.5°C or 0.5% of reading, whichever is greater
Emissivity Setting: Adjustable, 0.10 to 1.00
Emissivity Setting Method
-CB models: via two rotary switches in electronics module
-BB and -BRT models: via RS485 Modbus
-CRT and -BRT models: via touch screen
Response Time: t90 ≥240 ms (90% response)
Spectral Range: 2.0 to 2.6 μm
Supply Voltage: 24 V DC ± 5%
Maximum Current Draw: 100 mA
Max. Loop Impedance (-CB and -CRT models)
900 Ω (4-20 mA output)
Miniature sensing head and configurable electronics module
Touch screen interface (optional)
Data logging to MicroSD Card (optional)
Cube G Pyrometer for Glass Applications
Features
Temperature ranges from 100°C to 2400°C
Measured spot as small as 2.2 mm
Response time as fast as 10 ms
Continuous LED sighting shows the position and size of the measured spot while readings are being taken
ExTemp Intrinsically Safe Infrared Temperature Sensor, ATEX and IECEx Certified
Multilingual touch screen interface (optional)
Features
Temperature range: -20°C to 1000°C
ATEX and IECEx certified up to Zone 0 (gas) and Zone 20 (dust)
4-20 mA output, two-wire, loop-powered
Supplied with up to 25 m cable
Cable may be extended even further (subject to safety requirements) - cable runs could extend all the way back to the control room
Stainless steel 316 housing, ideal for offshore applications