Industrial Categories
see the categories and sub-categories
Ultrasonic
Ultrasonic sensors provide a cost effective sensing method with unique properties not possessed by other sensing technologies. By using a wide variety of ultrasonic transducers and several different frequency ranges, an ultrasonic sensor can be designed to solve many application problems that are cost prohibitive or simply cannot be solved by other sensors. Ultrasonic sensors continuously emit high frequency sound pulses inaudible to the human ear  which travel away from the sensor, hit the surface of the target and are reflected back to the sensor. The sensor electronics measure the time taken by the signals to return after being reflected by the target surface.
Since the speed of sound is affected by air temperature, our ultrasonic sensors include a built-in temperature sensor. Level/distance measurements are automatically temperature compensated throughout the operating temperature range of the sensor.
Classic applications include proximity sensing, object presence or absence, obstacle detection for automated vehicles, distance measuring, level measuring, etc etc
highlights
Direct measuring value output in mm/cm or % via LED display
Temperature compensation  for accurate measuring with fluctuating temperature
accuracy with temperature drift internal compensation, ±  1%
Numerical sensor setting via LED display  for a complete pre-setting of the sensor
1 or 2 pnp or npn switching outputs for all controls
Analogue output 4-20 mA and 0-10 V  for two signals in one device (optional), reverse polarity protection
Operating voltage 9-30 V for application in various supply networks
Additional teach-in-function for a traditional setting of detect points
Automatic synchronisation for simultaneous operation of up to ten sensors in confined spaces
Automatic switchover between current and voltage output  for simple operation
Housing material brass sleeve, nickel-plated, plastic parts, PBT, TPU (stainless steel optional)
protection rating IP67
vibration & shock complies to IEC 60068-2-27
Different operating modes and device configurations enable our ultrasonic sensing systems to be used in most conceivable automation applications

detection ranges
| | | | | |
| --- | --- | --- | --- | --- |
| 30-250mm | 60-350mm | 200-1300mm | 350-3400mm | 600-6000mm |
| | | | | |
Output versions
| | | |
| --- | --- | --- |
|   |   | |
Useful accessories
Angled or straight M12 Socket  connector with cable
Mounting set , stainless steel (304S15) angle bracket
click below to see applications for:
ultrasonic distance measuring
wastewater collection manhole level, manhole level control, effluents level control, effluents manhole level control, storm water manhole level control, water tank level control, water reservoir level control
The HPS range: pressure & chemicals resistant
The ultrasonic sensor that is employed for aggressive media filling level control applications in positive pressures of up to 6bar. The sensor's special software filters even facilitate its use in tanks which are filled from the top or are equipped with an agitator. It features a 1/2'' threaded spud and can be directly installed in pressure tanks. The sensor accommodates an analogue output 4-20mA and 0-10V as well as a pnp switched output. Its housing is made of stainless steel. As of a positive pressure of 1bar, the sensor can be employed for filling level control applications up to 1m. All sensor settings are directly made at the sensor via TouchControl, consisting of a three-digit digital display and two pushbuttons. During operation, the measured distance is directly indicated on the digital display in mm/cm or per cent.

Size: G1 or G2 connection
Material: Stainless steel or teflon
Detection range: 30 - 8.000 mm
Connection: 5-pin M12 connector
Sealing class: IP67
Features: pressure- and checmical resistant version of the MIC+ series. Pressure resistant up to 6 bar.
Two different output stages are available for four detection ranges:
2 x PNP, 1 x PNP + 1 x 0-10/4-20 mA
and when size does matter
think of nano - the smallest of its kind
nano – what's in a name? At just 55 mm long, including plug, the nano is the shortest M12 ultrasonic sensor on the market. The housing's design and mounting is compatible with many inductive and capacitive sensors. This facilitates the conversion to ultrasonic sensors for critical applications.
Highlights
M12 threaded sleeve
Threaded sleeve just 55 mm long (60 mm for the analogue sensor)
1 pnp- or npn-switching output
Analogue output 4–20 mA or 0–10
2 detection ranges: 250 mm, 350 mm
teach-in on Pin 2
The new pico+ ultrasonic sensors with IO-Link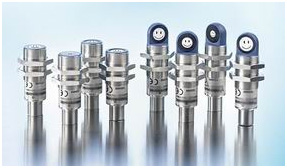 Even more compact: only 41 mm long, with optional angular head

Even more up-to-date: with IO-Link interface
Even more economical:
thanks to new production methods and M18 metal housing

The three pico+ operating types:

Simple detect point
Two-way reflective barrier
Window mode


Teach-in for a simple detect point

Position object to be detected (1) at the required distance
Place Pin 5 at +UB for three seconds
Then place Pin 5 again at +UB for 1 second

Teach-in for a two-way reflective barrier with a firmly fitted reflector

Place Pin 5 at +UB for three seconds
Then place Pin 5 again at +UB for 10 seconds

For a window adjustment

Position objects on the window limit near to the sensor (1)
Place Pin 5 at +UB for three seconds
Then move the object onto the window limit away from the sensor (2)
Then place Pin 5 again at +UB for 1 second

Receptive to the new IO-Link!

The new IO-Link interface in the pico+  sensors provides us with the requirements to effect continuous communication through all system architecture levels up and into the sensor itself. In this way, both machinery and equipment can be run in a more productive manner. IO-Link can enormously simplify the startup and maintenance of either a machine or appliance.

Easy to synchronise

A number of pico+sensors can be run closely packed in applications synchronised to stop them influencing one another. To this end, all the sensors are to be electrically connected one to another with Pin 5.

In instances of where a number of sensors are run at an IO-Link master, then the master's function is to assume synchronisation (Pin 5 must not wired under IO-Link operations).

Detects what has to be detected: using 3 ranges.

Example 1: To measure the level of a shampoo bottle through the screw cap opening, the need is for a short measuring distance and a narrow sound field.
Example 2: On the other hand, the need in measuring the filling level of potatoes is for a sensor with a broad sound field and a high degree of sensitiveness – all the more so since the potatoes can absorb and diffusely reflect the beam.
Example 3: A sensor with a maximum 1.3 m detection range is available for considerable measuring distances.

Different assignments demand ultrasonic sensors with varying detection ranges.

pico+25/F and pico+25/WK/F

30 mm blind zone
250 mm operating range
350 mm maximum range

pico+35/F and pico+35/WK/F

50 mm blind zone
350 mm operating range
600 mm maximum range

pico+100/F and pico+100/WK/F

100 mm blind zone
1,000 mm operating range
1,300 mm maximum range