Marine Categories
see the categories and sub-categories
Gas detection
The detection of hazardous gases has always been a complex subject, making the selection of the appropriate sensor, instrument, or equipment a difficult task. Sigma offers infrared. electrochemical, and catalytic  sensor technology for gas detection.
The professional sensors employed for Gas detection, show an excellent output  linearity up to 100 % LEL as well as a superior repeatability and durability. Sigmaguard's local and remote alarm capability, as well as, that the unit can function as stand alone or as part of a central control system, makes it ideal for multiple applications as it is easy to use and requires very little maintenance.
Series Sigma95HB (Sigma95H without display)

GAS DETECTOR WITH INTEGRATED SAMPLING PUMP
Series Sigma95HB gas detectors with a built-in suction pump can continuously monitor various gas  concentrations in environmental and pipeline applications 24/7, display concentration on the spot and provide alarm output standard signals, and transmit data remotely.
A fixed installation gas detector with built-in constant flow and large suction pump, high detection accuracy, and reaction speed 2.5 times faster than diffusion models.
Features & Specifications

Product Type: Fixed Installation Gas Detector with Pump Suction
Sampling method: built-in pumping type, flow rate 400-500mL/min
Sensors used: Electrochemical, NDIR, Catalytic, PID
Measurin range: 0-1ppm, 0-10ppm, 0-50ppm, 0-100ppm, 0-500ppm, 0-1000ppm (range optional)
Resolution 0.001ppm, 0.01ppm, 0.1ppm, 1ppm (related to the selected range)
Precision: 2% F.S (Better precision optional)
Response time: ≤ 8 seconds (T90)
Installation method wall-mounted, ducted, in-line (related to the monitoring environment)
Display: 2.4 inch color display, resolution 320*240
Measuring units PPM, mg/m3, %LEL, %VOL, etc. can be switched easily, and the concentration value is automatically converted by the system.
Interface displays gas molecular formula, concentration unit, measured value, pump status, etc.
Temperature and humidity detection: temperature: -20-50 ° C, resolution: 0.1 ° C; humidity: 0-99% RH, resolution: 1% RH (optional)
Signal output: 4-20mA, RS485, 1 group relay signal output; 1-5V (optional), two sets of relays (optional)
Wireless output (optional) GPRS wireless transmission function (optional); SMS reminder function (optional);
Data storage: independent SD memory card, record can be saved automatically, customizable recording interval (optional)
Communication and data download TXT file of stored data can be downloaded by connecting to a PC directly via USB; and with PC software to download, store, analyze and print the data.
Power supply 12-36V DC
Alarm mode: high and low alarm values can be set for sound and visual alarms
Alarm information: WeChat can be used to view real-time data and alarm information push (optional)
Recovery time ≤10S
Working temperature -20 ° C – 50 ° C ( optional overheating filter or pretreatment system)
Operating humidity 0 to 95% RH with no condensation. (optionally equipped with filter or pretreatment system for high humidity)
IECEx rating: ExdIICT6 Gb
Protection rating: IP65
Dimensions (H x W x D) 320*210*110mm
Weight about 3Kg
Optional accessories dry filter, high temperature probe, pretreatment system, controller, power adapter, switching power supply, etc.
Gases detected: see partial list below.
Portable Flammable Gas Detector
Model Sigma 1200HS-EX
The Sigma 1200HS-EX is a Portable Digital Flammable Gases Detector with 0-100% LEL Scale
Features & Specifications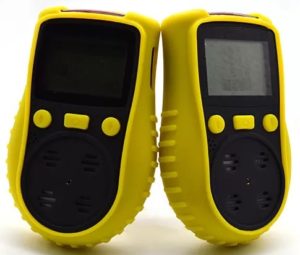 High precision & Reliable measurement
Detection method: diffusion (optionally an external sampling pump can be added, to suit different applications.
Mini size, protected by a compact housing.
It can be used on a belt clip or helmet.
Drop resistant (4-meters), silicone cover protection, dust-proof, dust-resistant, explosion-proof housing.
Full functions
Automatic calibration and reset functions, making detection more reliable and accurate.
One touch to reset the factory setting.
One touch to monitor the battery and voltage
Long usage time
High capacity lithium polymer rechargeable battery (10 hours continuously).
Data storage
It can record 100 alarm data sets, alarm recording can be controlled on the device.
It can record 100,000 sets of detected data and alarm data. Historical data can be checked on the device. (optional).
Alarm mode
- Visual alarm, acoustic alarm and vibration, alarm sound can be turned on or off.
- The alarm point is adjusted to the specific requirements.
Model Sigma 2000-M5 - Portable single or multiple (up to 5) gas detector
Gas Detectors with integrated suction pump
Compact Quick response and high precision device. With built-in suction sampling pump, fast sampling rate and high flow rate, the probe response time is ensured. Unique design, compact size and easy to carry. High strength plastic mechanical housing suitable for different applications and environments.
Specifications
Sensors: Electrochemical, Non Dispersive Infrared (NDIR). Catalytic
Sampling: With internal sampling pump (up to 1L / min)
Accuracy: ± ± 3% F.S. (optionally better accuracy)
Response time: ≤10S
Zero offset: ± ± 1% (F.S. / year)
Display: LCD dot matrix, with gas type display, real-time gas concentration, battery power, time, gas unit.
Temperature: -20 ℃ ~ 50 ℃
Humidity: 0-95% RH (without condensation)
ExibⅡCT4
Degree of protection IP65
Sound alarm: 85dB
Optical alarm: LED, low alarm: blue, high alarm: red
Vibration: the detector will vibrate when it is turned on
The alarm point is adjusted according to customer requirements.
Battery: 3.6V 2300mAh Lithium Polymer Rechargeable Battery, running time is about 12 hours continuously, charging time: 4-6 hours
Dimensions: 205x75x32mm
Weight: 330g
Warranty: 12 months
Partial list of detectable gases
| | | | |
| --- | --- | --- | --- |
| Gas | Range | Other optional ranges | Resolution |
| CO | 0-1000ppm | 0-100ppm, 0-500ppm, 0-2000ppm, 0-5000ppm, 0-10000ppm | 0.1ppm, 1ppm |
| H2S | 0-100ppm | 0-10ppm, 0-50ppm, 0-500ppm, 0-1000ppm, 0-10000ppm | 0.01, 0.1, 1ppm |
| O2 | 0-30%VOL | 0-5%VOL, 0-25%VOL, 0-50%VOL, 0-100%VOL | 0.01%VOL |
| EX / CH4 | 0-100%LEL | 0-100%VOL | 1%LEL, 0.01%VOL |
| N2 | 0-100%VOL | | 0.01%VOL |
| NH3 | 0-100ppm | 0-50ppm, 0-500ppm, 0-1000ppm, 0-5000ppm | 0.01, 0.1, 1ppm |
| CL2 | 0-10ppm | 0-20ppm, 0-50ppm, 0-100ppm, 0-200ppm, 0-500ppm | 0.01. 0.1ppm |
| H2 | 0-1000ppm | 0-100%LEL, 0-2000ppm, 0-10000ppm, 0-40000ppm, 0-4%VOL | 1%LEL, 1ppm |
| CH2O | 0-10ppm | 0-50ppm, 0-100ppm, 0-500ppm, 0-1000ppm | 0.01, 0.1, 1ppm |
| O3 | 0-50ppm | 0-1ppm, 0-10ppm, 0-20ppm, 0-100ppm, 0-500ppm, 0-1000ppm | 0.01, 0.1, 1ppm |
| CO2 | 0-5000ppm | 0-2000ppm, 0-10000ppm, 0-20000ppm, 0-50000ppm | 1ppm |
| NO | 0-100ppm | 0-20ppm, 0-50ppm, 0-500ppm, 0-1000ppm, 0-4000ppm | 0.01, 0.1, 1ppm |
| NO2 | 0-20ppm | 0-50ppm, 0-100ppm, 0-500ppm, 0-1000ppm, 0-4000ppm | 0.01, 0.1, 1ppm |
| NOX | 0-20ppm | 0-50ppm, 0-100ppm, 0-500ppm, 0-1000ppm, 0-4000ppm | 0.01, 0.1, 1ppm |
| SO2 | 0-10ppm | 0-20ppm, 0-50ppm, 0-100ppm, 0-500ppm, 0-1000ppm, 0-2000ppm | 0.01, 0.1, 1ppm |
| ETO | 0-10ppm | 0-20ppm, 0-50ppm, 0-100ppm, 0-500ppm, 0-1000ppm | 0.01, 0.1, 1ppm |
| PH3 | 0-10ppm | 0-20ppm, 0-50ppm, 0-100ppm, 0-500ppm, 0-1000ppm, 0-5000ppm | 0.01, 0.1, 1ppm |
| HCL | 0-10ppm | 0-20ppm, 0-50ppm, 0-100ppm | 0.01ppm |
| HCN | 0-10ppm | 0-20ppm, 0-50ppm, 0-100ppm | 0.01ppm |
| COCL2 | 0-1ppm | | 0.01ppm |
| CLO2 | 0-10ppm | 0-20ppm, 0-50ppm, 0-100ppm | 0.01ppm |
| SiH4 | 0-10ppm | 0-50ppm | 0.01ppm |
| F2 | 0-10ppm | 0-1ppm | 0.01ppm |
| HF | 0-10ppm | | 0.01ppm |
| HBr | 0-10ppm | 0-50ppm, 0-100ppm | 0.01ppm |
| H2O2 | 0-100ppm | 0-500ppm, 0-1000ppm, 0-2000ppm | 0.01, 0.1, 1ppm |
| B2H6 | 0-5ppm | 0-10ppm | 0.01ppm |
| AsH3 | 0-1ppm | 0-10ppm, 0-50ppm | 0.01ppm |
| GeH4 | 0-1ppm | | 0.01ppm |
| N2H4 | 0-1ppm | | 0.01ppm |
| THT | 0-100ppm | 0-50mg/m3, 0-100mg/m3 | 0.01ppm, 0.01mg/m3 |
| Br2 | 0-5ppm | 0-10ppm, 0-50ppm | 0.01ppm |
| C2H2 | 0-100ppm | 0-2.3%VOL | 0.01ppm, 0.01%VOL |
| C2H4 | 0-10ppm | 0-50ppm, 0-100ppm, 0-500ppm, 0-1000ppm, 2.4%VOL | 0.01, 0.1, 1ppm, 0.01%VOL |
| CH3OH | 0-100ppm | 0-50ppm, 0-500ppm, 0-1000ppm | 0.01, 0.1, 1ppm |
| C2H5OH | 0-100ppm | 0-50ppm, 0-500ppm, 0-1000ppm | 0.01, 0.1, 1ppm |
| CH4S | 0-100ppm | | 0.01ppm |
| C8H8 | 0-10ppm | 0-50ppm, 0-100ppm, 0-1000ppm, 0-5000ppm, 0-10000ppm | 0.01, 0.1, 1ppm |
| C4H6 | 0-10ppm | 0-50ppm, 0-100ppm, 0-1000ppm, 0-5000ppm, 0-10000ppm | 0.01, 0.1, 1ppm |
| VOC/TVOC | 0-10ppm | 0-1ppm, 0-50ppm, 0-100ppm, 0-500ppm, 0-1000ppm, 0-5000ppm, 0-10000ppm | 0.001, 0.01, 0.1, 1ppm |
| CH3Br | 0-10ppm | 0-50ppm, 0-100ppm, 0-500ppm, 0-1000ppm, 0-5000ppm, 0-10000ppm | 0.001, 0.01, 0.1, 1ppm |
| C6H6 | 0-10ppm | 0-1ppm, 0-50ppm, 0-100ppm, 0-500ppm, 0-1000ppm, 0-5000ppm, 0-10000ppm | 0.001, 0.01, 0.1, 1ppm |
| C7H8 | 0-10ppm | 0-1ppm, 0-50ppm, 0-100ppm, 0-500ppm, 0-1000ppm, 0-5000ppm, 0-10000ppm | 0.001, 0.01, 0.1, 1ppm |
| C8H10 | 0-10ppm | 0-1ppm, 0-50ppm, 0-100ppm, 0-500ppm, 0-1000ppm, 0-5000ppm, 0-10000ppm | 0.001, 0.01, 0.1, 1ppm |