Marine Categories
see the categories and sub-categories
Gas detection
The detection of hazardous gases has always been a complex subject, making the selection of the appropriate sensor, instrument, or equipment a difficult task. Sigma offers electrochemical, catalytic, & non-dispersive infrared(NDIR) sensors for toxic and flammable gases.
Sigma offers a variety of options to cover most of your applications, some of which are listed hereunder
Sigma 95H series
Sigma 95H series wall mounted type of gas detector with alarm light, is monitoring gas concentration in different applications 24h continuously. Using high quality sensors, and advanced micro-process technology, with data display, high/low alarm, offers fast response, high precision and good stability.
Powered by 24V DC, with 4-20mA, RS485, relay signal output and Explosion proof, is suitable for different kinds of applications.
Features

Monitor the specific gas concentration in the environment and activates the alarm when it is over the set point.
With self-calibration and zero calibration function, it makes the detection more accurate and reliable.
With temperature compensation, it is able to function under conditions of different temperatures.
A two-stage alarm (High/Low) with sound and light, is user adjustable.
An Infrared controller can adjust remotely the alarm point settings, zero calibration, and address modification.
Can output one or two on-off signals, to drive ventilator or
solenoid valve and other external devices.
Working Voltage:12-36V DC
Housing:die-cast aluminum + stainless steel (alarm light)
Product advantages
Using high quality sensors.
Standard equipped with three-wire system 4-20mA analog output; relay output; RS485 output (optional)
Unique infrared non contact control
Compatible with all kinds of control alarms, PLC, DCS and
other control systems, can be remote monitored.
Explosion-proof design, fast, reliable and stable.
Explosion-proof grade: II 2G Ex db IIC T6 Gb IP65
With self-calibration function and three standard keys will be used for on-site maintenance.
Technical Specifications
Gas Detected: As ordered from a variety of different gases
Detection Principle: Catalytic, Electrochemical, IR
Measuring Range: depending on the application
Installation Method: Wall-mounted, piping type, flow-type(according to the detection application)
Output signal 4-20mA, 1-5V, 2-10V, RS485, RS232, relays (optional)
Precision ≤±3%F.S. (higher precision is optional)
Zero shift ≤±1%(F.S./year)
Display 4 digits Nixie tube display.
Connection mode G1/2 external thread explosion-proof flexible pipe
Thread Size M45*2mm
Temperature –20℃~50℃
Humidity 0-95%RH (non-condensing)
Explosion-Proof Ex dⅡCT6
Protection rating IP65
Alarm mode Sound, light
Material Case: Die-cast aluminum
Sensor housing: aluminum alloy or 316 stainless steel
Power 12-36V DC
Dimensions 180×150×90mm
Weight ≤1.6kg
Gases,
CO, H2S, O2, EX/CH4, N2, NH3, CL2, H2, CH2O, O3, CO2, NO, NO2, SO2, ETO, PH3, HCL, HCN, COCL2, CLO2, SiH4, F2, HF, HBr, H2O2, B2H6, AsH3, GeH4, N2H4, THT, Br2, C2H2, C2H4, CH3OH, C2H5OH, CH4S, C8H8, C4H6, VOC/TVOC, CH3Br, C6H6, C7H8, C8H10. Other gases on request.
Portable Flammable Gas Detector
Model Sigma 1200HS-EX
The Sigma 1200HS-EX is a Portable Digital Flammable Gases Detector with 0-100% LEL Scale
Features & Specifications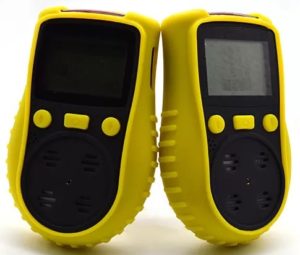 High precision & Reliable measurement
Detection method: diffusion (optionally an external sampling pump can be added, to suit different applications.
Mini size, protected by a compact housing.
It can be used on a belt clip or helmet.
Drop resistant (4-meters), silicone cover protection, dust-proof, dust-resistant, explosion-proof housing.
Full functions
Automatic calibration and reset functions, making detection more reliable and accurate.
One touch to reset the factory setting.
One touch to monitor the battery and voltage
Long usage time
High capacity lithium polymer rechargeable battery (10 hours continuously).
Data storage
It can record 100 alarm data sets, alarm recording can be controlled on the device.
It can record 100,000 sets of detected data and alarm data. Historical data can be checked on the device. (optional).
Alarm mode
- Visual alarm, audible alarm and vibration, alarm sound can be turned on or off.
- The alarm point is adjusted to the specific requirements.
Model Sigma 2000-M5 - Portable single or multiple (up to 5) gas detector
Gas Detectors with integrated suction pump
Compact Quick response and high precision device. With built-in suction sampling pump, fast sampling rate and high flow rate, the probe response time is ensured. Unique design, compact size and easy to carry. High strength plastic mechanical housing suitable for different applications and environments.
Specifications
Sensors: Electrochemical, Non Dispersive Infrared (NDIR). Catalytic
Sampling: With internal sampling pump (up to 1L / min)
Accuracy: ± ± 3% F.S. (optionally better accuracy)
Response time: ≤10S
Zero offset: ± ± 1% (F.S. / year)
Display: LCD dot matrix, with gas type display, real-time gas concentration, battery power, time, gas unit.
Temperature: -20 ℃ ~ 50 ℃
Humidity: 0-95% RH (without condensation)
ExibⅡCT4
Degree of protection IP65
Audible alarm: 85dB
Optical alarm: LED, low alarm: blue, high alarm: red
Vibration: the detector will vibrate when it is turned on
The alarm point is adjusted according to customer requirements.
Battery: 3.6V 2300mAh Lithium Polymer Rechargeable Battery, running time is about 12 hours continuously, charging time: 4-6 hours
Dimensions: 205x75x32mm
Weight: 330g
Warranty: 12 months
Partial list of detectable gases
| | | | |
| --- | --- | --- | --- |
| Gas | Range | Other optional ranges | Resolution |
| CO | 0-1000ppm | 0-100ppm, 0-500ppm, 0-2000ppm, 0-5000ppm, 0-10000ppm | 0.1ppm, 1ppm |
| H2S | 0-100ppm | 0-10ppm, 0-50ppm, 0-500ppm, 0-1000ppm, 0-10000ppm | 0.01, 0.1, 1ppm |
| O2 | 0-30%VOL | 0-5%VOL, 0-25%VOL, 0-50%VOL, 0-100%VOL | 0.01%VOL |
| EX / CH4 | 0-100%LEL | 0-100%VOL | 1%LEL, 0.01%VOL |
| N2 | 0-100%VOL | | 0.01%VOL |
| NH3 | 0-100ppm | 0-50ppm, 0-500ppm, 0-1000ppm, 0-5000ppm | 0.01, 0.1, 1ppm |
| CL2 | 0-10ppm | 0-20ppm, 0-50ppm, 0-100ppm, 0-200ppm, 0-500ppm | 0.01. 0.1ppm |
| H2 | 0-1000ppm | 0-100%LEL, 0-2000ppm, 0-10000ppm, 0-40000ppm, 0-4%VOL | 1%LEL, 1ppm |
| CH2O | 0-10ppm | 0-50ppm, 0-100ppm, 0-500ppm, 0-1000ppm | 0.01, 0.1, 1ppm |
| O3 | 0-50ppm | 0-1ppm, 0-10ppm, 0-20ppm, 0-100ppm, 0-500ppm, 0-1000ppm | 0.01, 0.1, 1ppm |
| CO2 | 0-5000ppm | 0-2000ppm, 0-10000ppm, 0-20000ppm, 0-50000ppm | 1ppm |
| NO | 0-100ppm | 0-20ppm, 0-50ppm, 0-500ppm, 0-1000ppm, 0-4000ppm | 0.01, 0.1, 1ppm |
| NO2 | 0-20ppm | 0-50ppm, 0-100ppm, 0-500ppm, 0-1000ppm, 0-4000ppm | 0.01, 0.1, 1ppm |
| NOX | 0-20ppm | 0-50ppm, 0-100ppm, 0-500ppm, 0-1000ppm, 0-4000ppm | 0.01, 0.1, 1ppm |
| SO2 | 0-10ppm | 0-20ppm, 0-50ppm, 0-100ppm, 0-500ppm, 0-1000ppm, 0-2000ppm | 0.01, 0.1, 1ppm |
| ETO | 0-10ppm | 0-20ppm, 0-50ppm, 0-100ppm, 0-500ppm, 0-1000ppm | 0.01, 0.1, 1ppm |
| PH3 | 0-10ppm | 0-20ppm, 0-50ppm, 0-100ppm, 0-500ppm, 0-1000ppm, 0-5000ppm | 0.01, 0.1, 1ppm |
| HCL | 0-10ppm | 0-20ppm, 0-50ppm, 0-100ppm | 0.01ppm |
| HCN | 0-10ppm | 0-20ppm, 0-50ppm, 0-100ppm | 0.01ppm |
| COCL2 | 0-1ppm | | 0.01ppm |
| CLO2 | 0-10ppm | 0-20ppm, 0-50ppm, 0-100ppm | 0.01ppm |
| SiH4 | 0-10ppm | 0-50ppm | 0.01ppm |
| F2 | 0-10ppm | 0-1ppm | 0.01ppm |
| HF | 0-10ppm | | 0.01ppm |
| HBr | 0-10ppm | 0-50ppm, 0-100ppm | 0.01ppm |
| H2O2 | 0-100ppm | 0-500ppm, 0-1000ppm, 0-2000ppm | 0.01, 0.1, 1ppm |
| B2H6 | 0-5ppm | 0-10ppm | 0.01ppm |
| AsH3 | 0-1ppm | 0-10ppm, 0-50ppm | 0.01ppm |
| GeH4 | 0-1ppm | | 0.01ppm |
| N2H4 | 0-1ppm | | 0.01ppm |
| THT | 0-100ppm | 0-50mg/m3, 0-100mg/m3 | 0.01ppm, 0.01mg/m3 |
| Br2 | 0-5ppm | 0-10ppm, 0-50ppm | 0.01ppm |
| C2H2 | 0-100ppm | 0-2.3%VOL | 0.01ppm, 0.01%VOL |
| C2H4 | 0-10ppm | 0-50ppm, 0-100ppm, 0-500ppm, 0-1000ppm, 2.4%VOL | 0.01, 0.1, 1ppm, 0.01%VOL |
| CH3OH | 0-100ppm | 0-50ppm, 0-500ppm, 0-1000ppm | 0.01, 0.1, 1ppm |
| C2H5OH | 0-100ppm | 0-50ppm, 0-500ppm, 0-1000ppm | 0.01, 0.1, 1ppm |
| CH4S | 0-100ppm | | 0.01ppm |
| C8H8 | 0-10ppm | 0-50ppm, 0-100ppm, 0-1000ppm, 0-5000ppm, 0-10000ppm | 0.01, 0.1, 1ppm |
| C4H6 | 0-10ppm | 0-50ppm, 0-100ppm, 0-1000ppm, 0-5000ppm, 0-10000ppm | 0.01, 0.1, 1ppm |
| VOC/TVOC | 0-10ppm | 0-1ppm, 0-50ppm, 0-100ppm, 0-500ppm, 0-1000ppm, 0-5000ppm, 0-10000ppm | 0.001, 0.01, 0.1, 1ppm |
| CH3Br | 0-10ppm | 0-50ppm, 0-100ppm, 0-500ppm, 0-1000ppm, 0-5000ppm, 0-10000ppm | 0.001, 0.01, 0.1, 1ppm |
| C6H6 | 0-10ppm | 0-1ppm, 0-50ppm, 0-100ppm, 0-500ppm, 0-1000ppm, 0-5000ppm, 0-10000ppm | 0.001, 0.01, 0.1, 1ppm |
| C7H8 | 0-10ppm | 0-1ppm, 0-50ppm, 0-100ppm, 0-500ppm, 0-1000ppm, 0-5000ppm, 0-10000ppm | 0.001, 0.01, 0.1, 1ppm |
| C8H10 | 0-10ppm | 0-1ppm, 0-50ppm, 0-100ppm, 0-500ppm, 0-1000ppm, 0-5000ppm, 0-10000ppm | 0.001, 0.01, 0.1, 1ppm |