Portable Categories
see the categories and sub-categories
Water Networks Leak Detection Instruments & Systems
Pro-series correlators
The Pro-series correlators represents a breakthrough in leak detection technology. It features improvements throughout the leak noise processing path to provide improved performance; especially in the most difficult leak detection situations. This enables it to give the best performance in traditionally difficult conditions, such as on plastic and large diameter pipes.
Easy To Use
Pro-series features a high visibility full colour VGA touch screen to greatly improve data entry and the quality of graphical presentation. The intuitive user interface enables the unit to be operated with minimal key presses and the helpful step by step menu system easily guides the user through the correlation process.
High Quality Performance
The large screen clearly displays correlation results and supportive information, and the innovative high contrast mode enables good visibility even in bright sunshine.
The unique Automated Filtering Intelligence System (AFIS) automatically runs up to 55 different filter combinations on each correlation, checking the quality of the result and optimizing the filters until the best result is obtained. AFIS works with both live and pre-recorded correlation data and makes manual filter setting a thing of the past by effectively building an "expert user" into the unit.
The outstation is compact with an upgraded high quality, long range radio transmission. It also features a magnet to secure onto metallic surfaces.
Robust for Long-term Use
The specially designed robust case not only carries and protects all components, it also allows the base station and outstations to be charged from a single power lead and displays charging status. Units can be stowed with sensors still connected for faster deployment in the field.
Using the extensive experience of correlator design and manufacture, an easy to use system has been created that delivers the best all round performance at a highly competitive price.
KEY FEATURES
■ Upgraded processing electronics
■ Upgraded high quality, long range telemetry
■ AFIS - Automatic Filtering intelligence system
■ High visibility colour VGA Touch screen
■ Easy to use
■ Compact, portable design
■ Unique, robust construction
■ In case charging
■ High Impact PC/ABS Casework
■ Faster and cleaner correlation results
■ Option available for Trunk Main Monitoring
---
P-series+ Correlation Logging System
The P-series+ Correlation Logging System builds on the proven reputation of the previous leak noise logger models but brings new advanced features:
Flexible deployment – permanent, semi-permanent, or 'lift & shift'
Remote listening mode
Correlation mode
Auto download of 1 month history
P-series Correlator+ enables water suppliers to quickly and efficiently locate leaks in the water network. Loggers are deployed in areas of the distribution system to provide continuous monitoring of leakage. Easily installed on pipe fittings, they are retained in place by a strong magnet. As soon as a potential leak is detected, the unit enters an alarm state and transmits a radio signal to indicate a "LEAK" condition.
When a leak is identified, the unit automatically records the noise for radio download correlation and sound file listening. Water suppliers can monitor 100% of their distribution system confidently and effectively, enabling leakage to be reduced quickly, and easily maintained at a low level.
The new logger features a small low cost USB radio receiver designed to be used with tablets or other compatible devices running the P-series Correlator+ software.
P-series Correlator+ software provides map based displays and all functionality for:
Multiple operating modes

Drive-by
'Lift and Shift'
Multiple functionality
Leak alarms
Noise data and history
Correlation
Sound file listening
Frequency display
Lift and Shift Data Collection
The P-series Correlator+ "lift and shift" mode is designed for use in a rapid deployment mode allowing users to distribute loggers into the distribution systems, quickly identify potential areas of leakage and then re-deploy the loggers into another area.
Drive By Data Collection
P-series Correlator+ has an improved surveying speed enabling fast radio download of new data, including full noise logging graphics where further investigation is required. The drive by version features a new PDA based bluetooth collector to enable remote multiple logger programming and download.
Operating Functionality
Correlation
Leak alarm
Noise data and history – 28 days check
Sound file listening
Frequency display
---
DX-series Ground Microphone
DX-series i
s the latest generation ground microphone from Sigma Hellas. Building on the excellent reputation of the X-series, the DX-series features touch screen operation and a wealth of new innovative features.
The DX-series has the highest sound quality and supports audio recordings, so playback of any leak noise can easily be accessed via USB. The device comes with a robust carry case which can also be used as a charging station for the device.
Key Features and Benefits
■ Excellent audio: Best in class sound quality.
■ Durable: Robust housing with carry handle fixings.
■ Touch screen: Clear multi-functional graphics and ease of use.

■ Wireless capability: For headphones or transfer of audio/configuration data to PC (Wireless or standard headphone options).
■ Clear upgrade path: Compatible with X-series foot and handprobe sensor.
■ USB capability: For data transfer.
■ Rechargeable batteries: Li-ion cells with 15-25 hrs Battery life.
■ Support for audio recording: Playback functions for reference and training.
■ User friendly: Safety Noise Level cut off and noise cancellation filters.
■ Improved automatic filtering: Supported by frequency analysis display.
■ App version: For download of results and remote transfer Frequency shifting: Moving low frequencies into audible spectrum for use on plastic pipelines.
■ Minimum level noise recording: For effective pinpointing.
---
L-series
The L-series is an easy-to-use, low cost, electronic listening stick and ground microphone combined. It is ideal for general leak sounding operations and can be fitted with either a tripod foot (for use as a ground microphone) or probe rods (for sounding at fittings or in soft ground).
The control unit is hand-held with a 'trigger' operation and a volume/sensitivity rotary control. An LED indicates operation and battery status. This lightweight unit can be used to confirm the position of underground leaks audibly from ground level, sound pipe fittings penetrate soft ground to listen for leaks and carry out traditional acoustic surveys.
The L-series "i" gives additional electrical insulation by inserting an acetol disc between the shaft and the hand-piece, and adding insulation to the shaft for extra protection.
The L-series is supplied with a hand held control unit, microphone unit with cable, tripod unit, 2 probe rods, AC adapter, headphones, carry bag and instruction manual. The L-series "i" is supplied with all of the above, plus an acetol isolation block and insulation for the 2 probe rods.
KEY BENEFITS
■ Lightweight hand-held unit for long term ease of use
■ Low cost
■ Excellent acoustic performance
■ Simple "trigger" operation
■ Versatile – ground microphone and hand probe configurations
■ Military specification connectors
■ Rechargeable battery pack with long operation between charges
■ Additional protection from electric shock (L-series "i" only)
---
T-series
T
-series is a highly cost effective mini water leak detection unit with visual and audible indication of the leak. The unit fits conveniently into a pocket, making it perfect for any water specialist or plumber for instant, on the spot leak monitoring.
Lightweight and portable, Tmic assists technicians to hear sounds on the water network which would otherwise be inaudible to the human ear. The unit is operated with a simple push button and displays a visual in
dication of noise levels together with excellent sound reproduction through high quality Bluetooth headphones.
The sensor tip can be connected to a meter long rod or placed directly on the pipe or fittings. Sensitivity levels are far beyond what is possible with mechanical listening sticks.
T-series's memory will store a noise level and show it on its LED display. By visually comparing the current
and previous noise level the operator can quickly identify where the noise is loudest. The LED also displays the battery level and Bluetooth pairing status. An LED torch is incorporated into the unit for use at night or to investigate dark chambers.
The unit and its accessories are supplied in a case with precision cut foam compartments to protect in transit.
key features
■ High quality, clear audio monitoring

■ Lightweight and easily portable.
■ Long battery life from replaceable cells
■ Memory store of sound level for visual comparison of previous and current noise levels.
■ LED displays noise level indication, comparison with previous noise level, battery status and Bluetooth pairing status.
■ Mute sound off/on
■ Easy push button operation.
■ Range of adapters supplied to suit different applications.
■ Supplied in a small transit case.
■ Built in LED light – for night work or dark chambers
■ Wireless transmission of leak noise via Bluetooth headphones.
---
ST Listening Stick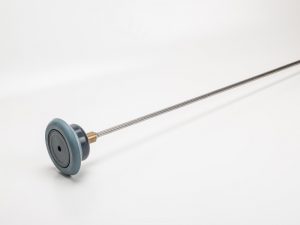 The high performance ST Listening Stick uses mechanical amplification for detecting and pinpointing leakage and has an acoustic resonant chamber for noise amplification.
The two segment plated steel bar screws together to form a 1 metre length. Additionally, a three segment plated steel bar can be selected by the customer which extends the length to 1.5 metres.
The listening stick transmits the leak noise vibrations to a brass diaphragm within the resonant cavity. The radiated noise is mechanically amplified within the chamber to improve sensitivity.
Made from chromium plated mild steel, it is suitable for basic level leak detection and ideal for individuals who may experience difficulty in differentiating between static and leak noise on an electronic listening stick.
key features
■ Single user operation
■ Very low cost.
■ Easy to use
■ Highly portable.
■ Hard wearing
■ Rugged design.
■ Long life
■ Chronium plated mild steel.
■ 1 metre or 1.5 metre length option.
■ No electrical components.
■ Stick may be unscrewed into sections for easy storage