Portable Categories
see the categories and sub-categories
Model 316-1
A gas leak detector that quickly detects even the smallest leaks.
Features
Bendable measurement probe for inaccessible pipes
Optical and audible alarm if limit value is exceeded
Waterproof case protects from dirt and impact (optional)
Technical Data
| | |
| --- | --- |
| Meas. range | 0 to 10,000 ppm CH4 |
| 1st alarm limit | from 200 ppm CH4 |
| 2nd alarm limit | 10.000 ppm CH4 |
| Battery life | > 5 h |
| Dimensions | 190 x 57 x 42 mm |
317-3 CO monitor incl. leather bag, headphones, wrist strap, self-test function, sampler
Model 317-3 CO monitor detects the presence of carbon monoxide in the surrounding area and warns the user both visually and audibly about dangerous gas concentrations e.g. when installing and servicing gas heaters.
    3 year warranty on CO sensor
    Visual and audible alarm
    No zero phase, instrument can be used immediately
    Adjustable alarm threshold
    CO zeroing at site
Technical Data
  
| | |
| --- | --- |
| Operating temperature: | -5 to +45°C |
| Battery type: | 2 batteries Type AAA |
| Battery life: | 150 h (with alarm off) |
| Probe type: | CO |
| Meas. Range: | 0 to +1999 ppm |
| Accuracy: | ±10 ppm (0 to +99 ppm) |
| | ±10 % (+100 to +499 ppm) |
| | ±20 % ( >+500 ppm) |
| Reaction time (t 90 ): | 40 sec |
| Resolution: | 1 ppm |
CO2 meter 535
Model 535, is a CO2 measuring instrument with permanently attached probe, and batteries.
An efficient CO2 measuring instrument for measuring indoor air quality. Bad air quality in rooms can lead to tiredness, lack of concentration and illness (Sick Building Syndrome) due to high CO2 concentration (greater than 1000 ppm)
Benefits
* Long-term monitoring based on maximum and mean calculation
* Long-term stable 2 channel infrared sensor
* Highly accurate, highly efficient
* Repeated calibration is unnecessary
Technical Data 
Display                           LCD, 2 lines
Storage temperature       -20 to +70 °C
Operating temperature     0 to +50 °C
Battery type                    9V block battery
Battery life                      6 h
Weight                           300 g
Dimensions                     190 x 57 x 42 mm
Material/Housing             ABS
CO2 Probe
Meas. Range                   0 to +9999 ppm CO2
Accuracy                         ±(50 ppm CO2 ±2% of mv) (0 to +5000 ppm CO2)
±(100 ppm CO2 ±3% of mv) (+5001 to +9999 ppm CO2)
Resolution                       1 ppm CO2
Portable Combustible Gases Detector
Gas detectors generally monitor gas concentrations based on the lower explosive limit. This is because even if a gas is present at concentrations exceeding the upper explosive limit, if a gas leakage occurs into the atmosphere, the gas will be immediately diluted and diffuse, bringing concentrations to within the explosive range. The unit %LEL is frequently used to express a concentration with respect to the lower explosive limit (100 %LEL).
Model Sigma 1200HS-EX
The Sigma 1200HS-EX is a Portable Digital Combustible Gases Detector with 0-100% LEL Scale
Features & Specifications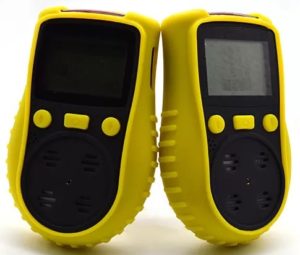 High precision & Reliable measurement
Detection method: diffusion (optionally an external sampling pump can be added, to suit different applications.
Mini size, protected by a compact housing.
It can be used on a belt clip or helmet.
Drop resistant (4-meters), silicone cover protection, dust-proof, dust-resistant, explosion-proof housing.
Full functions
Automatic calibration and reset functions, making detection more reliable and accurate.
One touch to reset the factory setting.
One touch to monitor the battery and voltage
Long usage time
High capacity lithium polymer rechargeable battery (10 hours continuously).
Data storage
It can record 100 alarm data sets, alarm recording can be controlled on the device.
It can record 100,000 sets of detected data and alarm data. Historical data can be checked on the device. (optional).
Alarm mode
- Visual alarm, acoustic alarm and vibration, alarm sound can be turned on or off.
- The alarm point is adjusted to the specific requirements.
Model Sigma 2000-M5 - Portable single or multiple (up to 5) gas detector
Gas Detectors with integrated suction pump
Compact Quick response and high precision device. With built-in suction sampling pump, fast sampling rate and high flow rate, the probe response time is ensured. Unique design, compact size and easy to carry. High strength plastic mechanical housing suitable for different applications and environments.
Specifications
Sensors: Electrochemical, Non Dispersive Infrared (NDIR). Catalytic
Sampling: With internal sampling pump (up to 1L / min)
Accuracy: ± ± 3% F.S. (optionally better accuracy)
Response time: ≤10S
Zero offset: ± ± 1% (F.S. / year)
Display: LCD dot matrix, with gas type display, real-time gas concentration, battery power, time, gas unit.
Temperature: -20 ℃ ~ 50 ℃
Humidity: 0-95% RH (without condensation)
ExibⅡCT4
Degree of protection IP65
Sound alarm: 85dB
Optical alarm: LED, low alarm: blue, high alarm: red
Vibration: the detector will vibrate when it is turned on
The alarm point is adjusted according to customer requirements.
Battery: 3.6V 2300mAh Lithium Polymer Rechargeable Battery, running time is about 12 hours continuously, charging time: 4-6 hours
Dimensions: 205x75x32mm
Weight: 330g
Warranty: 12 months
Partial list of detectable gases
| | | | |
| --- | --- | --- | --- |
| Gas | Range | Other optional ranges | Resolution |
| CO | 0-1000ppm | 0-100ppm, 0-500ppm, 0-2000ppm, 0-5000ppm, 0-10000ppm | 0.1ppm, 1ppm |
| H2S | 0-100ppm | 0-10ppm, 0-50ppm, 0-500ppm, 0-1000ppm, 0-10000ppm | 0.01, 0.1, 1ppm |
| O2 | 0-30%VOL | 0-5%VOL, 0-25%VOL, 0-50%VOL, 0-100%VOL | 0.01%VOL |
| EX / CH4 | 0-100%LEL | 0-100%VOL | 1%LEL, 0.01%VOL |
| N2 | 0-100%VOL | | 0.01%VOL |
| NH3 | 0-100ppm | 0-50ppm, 0-500ppm, 0-1000ppm, 0-5000ppm | 0.01, 0.1, 1ppm |
| CL2 | 0-10ppm | 0-20ppm, 0-50ppm, 0-100ppm, 0-200ppm, 0-500ppm | 0.01. 0.1ppm |
| H2 | 0-1000ppm | 0-100%LEL, 0-2000ppm, 0-10000ppm, 0-40000ppm, 0-4%VOL | 1%LEL, 1ppm |
| CH2O | 0-10ppm | 0-50ppm, 0-100ppm, 0-500ppm, 0-1000ppm | 0.01, 0.1, 1ppm |
| O3 | 0-50ppm | 0-1ppm, 0-10ppm, 0-20ppm, 0-100ppm, 0-500ppm, 0-1000ppm | 0.01, 0.1, 1ppm |
| CO2 | 0-5000ppm | 0-2000ppm, 0-10000ppm, 0-20000ppm, 0-50000ppm | 1ppm |
| NO | 0-100ppm | 0-20ppm, 0-50ppm, 0-500ppm, 0-1000ppm, 0-4000ppm | 0.01, 0.1, 1ppm |
| NO2 | 0-20ppm | 0-50ppm, 0-100ppm, 0-500ppm, 0-1000ppm, 0-4000ppm | 0.01, 0.1, 1ppm |
| NOX | 0-20ppm | 0-50ppm, 0-100ppm, 0-500ppm, 0-1000ppm, 0-4000ppm | 0.01, 0.1, 1ppm |
| SO2 | 0-10ppm | 0-20ppm, 0-50ppm, 0-100ppm, 0-500ppm, 0-1000ppm, 0-2000ppm | 0.01, 0.1, 1ppm |
| ETO | 0-10ppm | 0-20ppm, 0-50ppm, 0-100ppm, 0-500ppm, 0-1000ppm | 0.01, 0.1, 1ppm |
| PH3 | 0-10ppm | 0-20ppm, 0-50ppm, 0-100ppm, 0-500ppm, 0-1000ppm, 0-5000ppm | 0.01, 0.1, 1ppm |
| HCL | 0-10ppm | 0-20ppm, 0-50ppm, 0-100ppm | 0.01ppm |
| HCN | 0-10ppm | 0-20ppm, 0-50ppm, 0-100ppm | 0.01ppm |
| COCL2 | 0-1ppm | | 0.01ppm |
| CLO2 | 0-10ppm | 0-20ppm, 0-50ppm, 0-100ppm | 0.01ppm |
| SiH4 | 0-10ppm | 0-50ppm | 0.01ppm |
| F2 | 0-10ppm | 0-1ppm | 0.01ppm |
| HF | 0-10ppm | | 0.01ppm |
| HBr | 0-10ppm | 0-50ppm, 0-100ppm | 0.01ppm |
| H2O2 | 0-100ppm | 0-500ppm, 0-1000ppm, 0-2000ppm | 0.01, 0.1, 1ppm |
| B2H6 | 0-5ppm | 0-10ppm | 0.01ppm |
| AsH3 | 0-1ppm | 0-10ppm, 0-50ppm | 0.01ppm |
| GeH4 | 0-1ppm | | 0.01ppm |
| N2H4 | 0-1ppm | | 0.01ppm |
| THT | 0-100ppm | 0-50mg/m3, 0-100mg/m3 | 0.01ppm, 0.01mg/m3 |
| Br2 | 0-5ppm | 0-10ppm, 0-50ppm | 0.01ppm |
| C2H2 | 0-100ppm | 0-2.3%VOL | 0.01ppm, 0.01%VOL |
| C2H4 | 0-10ppm | 0-50ppm, 0-100ppm, 0-500ppm, 0-1000ppm, 2.4%VOL | 0.01, 0.1, 1ppm, 0.01%VOL |
| CH3OH | 0-100ppm | 0-50ppm, 0-500ppm, 0-1000ppm | 0.01, 0.1, 1ppm |
| C2H5OH | 0-100ppm | 0-50ppm, 0-500ppm, 0-1000ppm | 0.01, 0.1, 1ppm |
| CH4S | 0-100ppm | | 0.01ppm |
| C8H8 | 0-10ppm | 0-50ppm, 0-100ppm, 0-1000ppm, 0-5000ppm, 0-10000ppm | 0.01, 0.1, 1ppm |
| C4H6 | 0-10ppm | 0-50ppm, 0-100ppm, 0-1000ppm, 0-5000ppm, 0-10000ppm | 0.01, 0.1, 1ppm |
| VOC/TVOC | 0-10ppm | 0-1ppm, 0-50ppm, 0-100ppm, 0-500ppm, 0-1000ppm, 0-5000ppm, 0-10000ppm | 0.001, 0.01, 0.1, 1ppm |
| CH3Br | 0-10ppm | 0-50ppm, 0-100ppm, 0-500ppm, 0-1000ppm, 0-5000ppm, 0-10000ppm | 0.001, 0.01, 0.1, 1ppm |
| C6H6 | 0-10ppm | 0-1ppm, 0-50ppm, 0-100ppm, 0-500ppm, 0-1000ppm, 0-5000ppm, 0-10000ppm | 0.001, 0.01, 0.1, 1ppm |
| C7H8 | 0-10ppm | 0-1ppm, 0-50ppm, 0-100ppm, 0-500ppm, 0-1000ppm, 0-5000ppm, 0-10000ppm | 0.001, 0.01, 0.1, 1ppm |
| C8H10 | 0-10ppm | 0-1ppm, 0-50ppm, 0-100ppm, 0-500ppm, 0-1000ppm, 0-5000ppm, 0-10000ppm | 0.001, 0.01, 0.1, 1ppm |